Highlighted Changemakers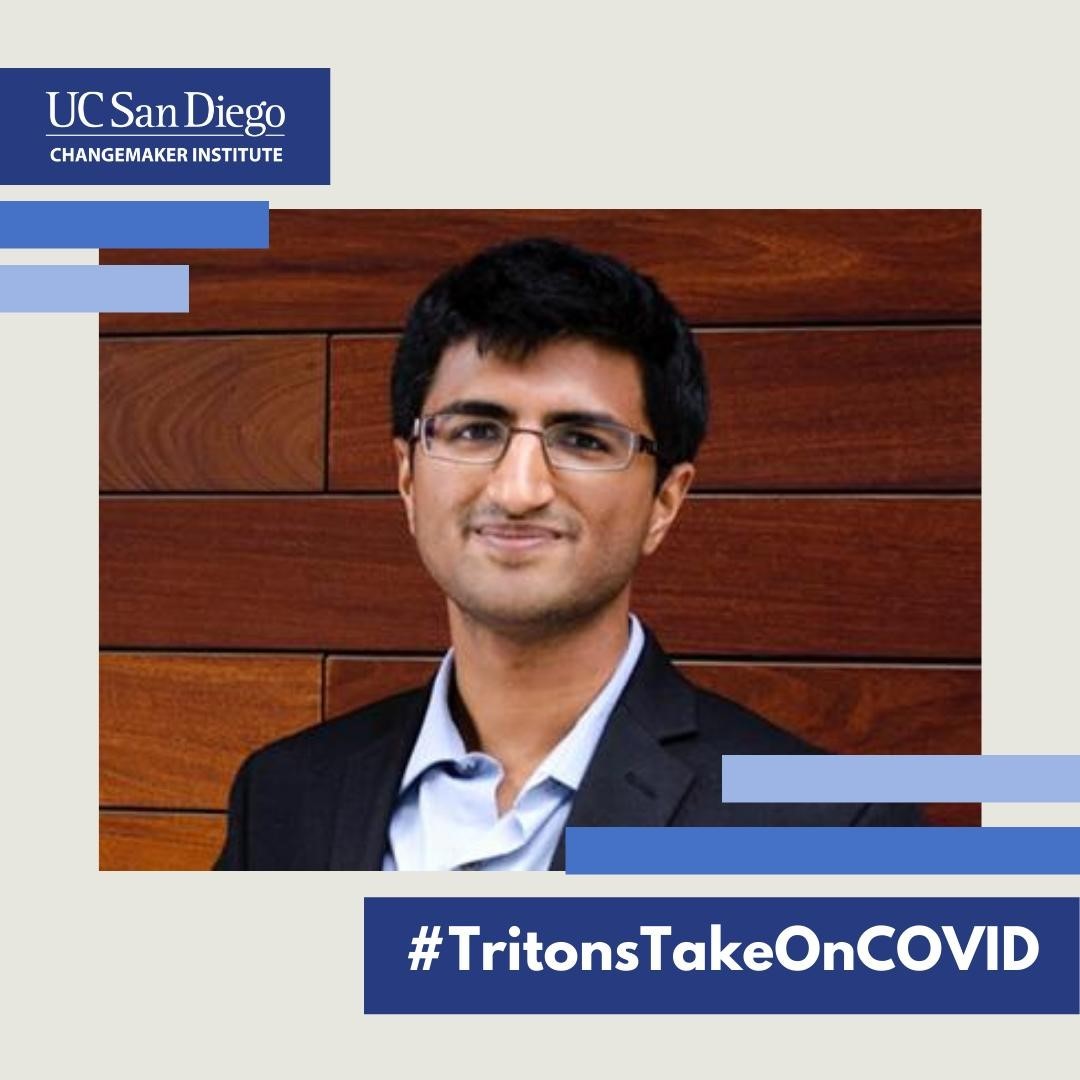 Varun Govil | Bioengineering, Jacobs School of Engineering
Partners and Collaborators: UC San Diego School of Medicine, SIM Center, headed by Preetham Suresh, M.D., with additional support by Alexander Norbash, M.D., and Atul Malhotra, M.D.
Project Description: Govil served as the leader of Zephyr, a team of aspiring engineers at UC San Diego who worked to design a low cost emergency ventilation system. Using rapid fabrication techniques, Govil and his collaborators sought to mitigate the high costs of medical components while simultaneously providing solutions towards breakdowns in the local, national and global supply chain. With the support of their partners, they have developed a prototype to advance the DIY emergency medical design space.
Impact: "As of now, we are looking to push the boundaries of the DIY medical design space to show what is possible. By providing solutions to common and complex issues with supply chains, manufacturing and emergency operation, we hope to inspire others to realize their potential to aid in a global medical crisis," said Govil. "In the future, with sufficient testing and refinement, we are interested in serving our community by working with our partners to provide essential medical supplies." Read more...
---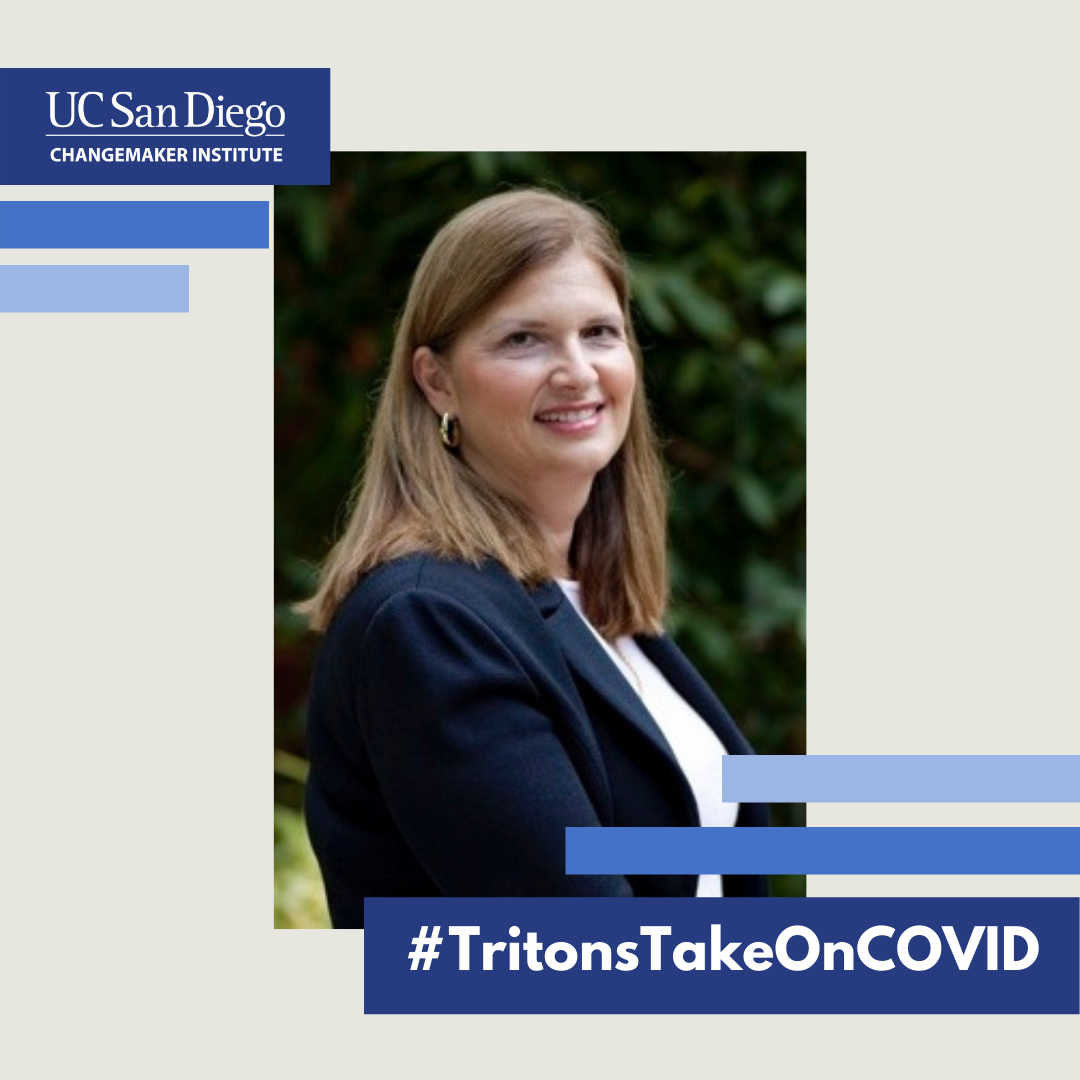 Angela L. Scioscia, M.D. | Interim Executive Director of Student Health and Well-Being
Partners and Collaborators: UC San Diego Health Information Services and Counseling & Psychological Services (CAPS).
Project Description: In order to provide students with ongoing mental health support during the pandemic, Dr. Scioscia introduced the transition from traditional in-person counseling to tele-mental health visits. This remote support was achieved through a secure patient portal integrated with the electronic medical record platform shared with UC San Diego Health. UC San Diego Health Information Services and CAPS were critical partners, helping to secure and program 30 iPads to support tele-mental health and partnering with the CAPS providers to extend education and documentation tools used across the health system.
Impact: "Mental health support for the student body was uninterrupted despite a remote environment," said Dr. Scioscia."The electronic medical record platform allowed for CAPS to further develop as a cutting-edge counseling center with innovative execution of its functions and services."Read more...
---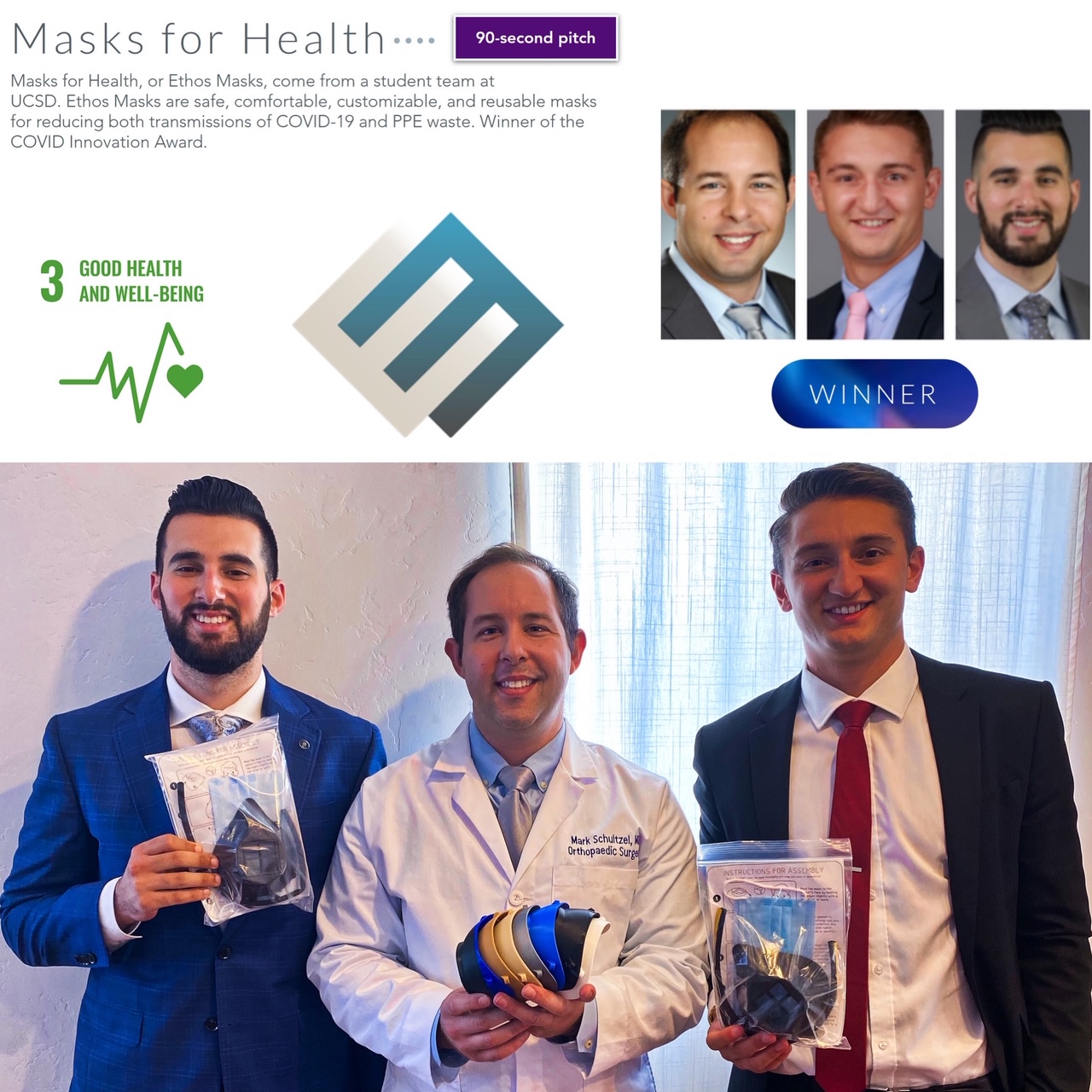 Nicholas DiGirolamo, Amir Hassan, Mark Schultzel, M.D. | Rady School of Management
Partners and Collaborators: Rady School of Management students, with donations from UC San Diego Health, UCI Health, George Washington University Hospitals, Mount Sinai Hospital, University of Virginia Hospital alongside national and international first responder groups and medical practices.
Project Description: DiGirolamo, Hassan and Dr. Schultzel are founders of the Ethos Mask, which is distributed as a kit comprised of a 3D-printed mask body, a braided elastic strap, a standard surgical mask and a rubber seal. Utilizing the user-assembled kit model, the 3D-printed mask body can be molded to the wearer's face, offering superior comfort and virus protection. The rubber seal improves comfort, allows facial protection and prevents the fogging of glasses. The mask can be cut into pieces such that one mask can be used up to 6 times, reducing mask waste. All proceeds from mask sales are used to manufacture and distribute masks to healthcare professionals in need. 
Impact: "We have been able to donate Ethos Mask kits by the thousands to health care and community service members across the country, free of charge, donating to hospitals, medical schools and first responders across the country. We have also sold Ethos Mask kits directly to members of the public, with sales coming from 24 states and four countries" said DiGirolamo. "We've supported our fellow Tritons in the UC San Diego Emergency Medicine department with a donation of 500 masks. Ethos Mask was also the recipient of the Global COVID Innovation Award after making it to the world finals at the 2020 Fowler Global Social Innovation Challenge Finals this July."
---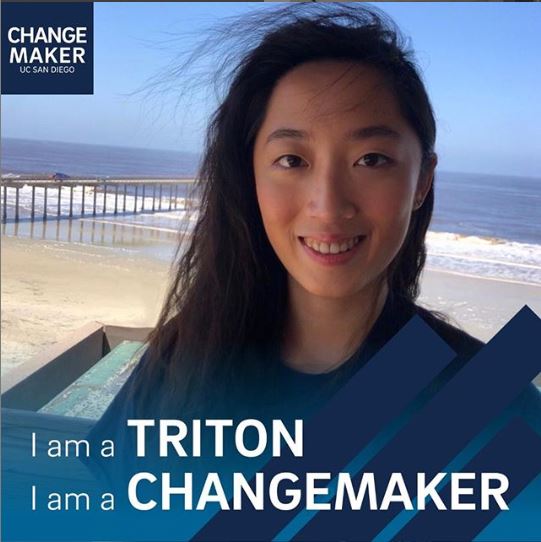 Changemaker Rachel Chang is co-president of Music and Memory at UC San Diego! "Music and Memory at UCSD aims to bring personalized music into the lives of people with a wide range of cognitive and physical challenges through digital music technology and live performances, helping improve quality of life. I wanted to start this organization because it combines two of my greatest passions- music and healthcare. Being in a lab that does research on aging and my biology major, combined with my music background, this seemed like a perfect way to give back and make a difference.
"Our ultimate goal is to make this form of personalized therapeutic music a standard of care throughout the healthcare system. Over the course of the quarter, we volunteer at our local care center near campus. We curate playlists for residents affected by Alzheimer's and dementia, based on their individual music taste. We also organize sing-alongs and student-led concerts for the residents and their families. Seeing their faces light up to the sound of music, and being part of their memory recollection has been the most rewarding! To learn more about our organization, check us out at musicandmemory.ucsd.com."
---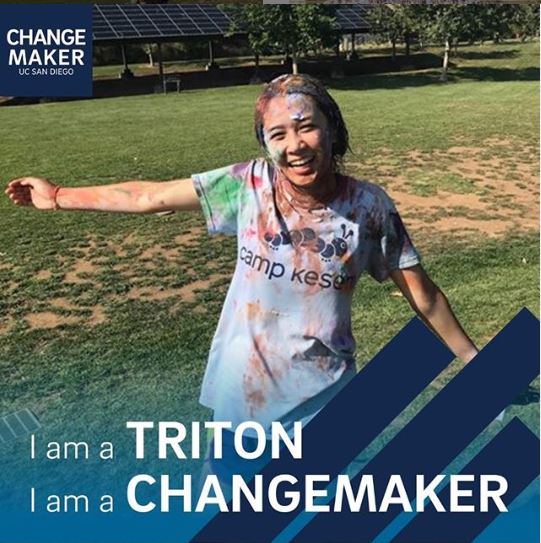 Krystine "Olive" Bernas is Campus Director at Camp Kesem. "I joined the organization my freshman year at UCSD, I could not imagine the impact that it would have on me. However, now that I am about to graduate and I've been involved in the organization through various ways over the past four years, I could not imagine my college journey without Camp Kesem.
"Camp Kesem has shown me what it feels like to be truly happy. Despite all the hardships the campers have been through, they continue to show such much love, support, and happiness. Often times these campers are forced to grow up a lot faster than they should. Camp Kesem offers them a place to let go of their worries, connect with individuals like themselves, and be a kid again. Seeing the joy on all the campers faces inspires me to be better person.
"There is no other community that is as genuine, supportive, compassionate, and of course, silly, as my Kesem family." Learn more at @campkesemucsd
---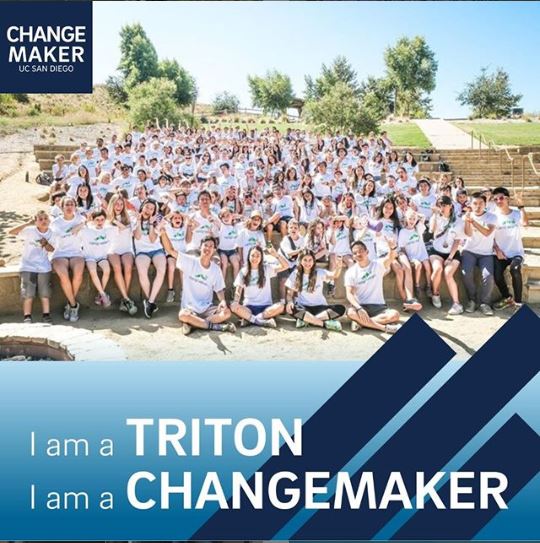 Camp Kesem is a national organization that supports children affected by a parent's cancer by providing a free, week-long summer camp. Camp Kesem at UC San Diego was founded in 2001, and serves over 230 campers in the San Diego area. The chapter is entirely student-run by passionate college students determined to positively impact the lives of these children. Learn more at @campkesemucsd
.
---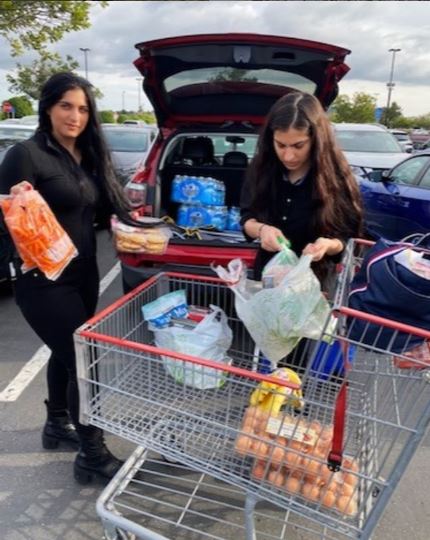 Student pharmacists at Skaggs School of Pharmacy and Pharmaceutical Sciences at UC San Diego are organizing volunteers to provide free grocery shopping and delivery services to people in the San Diego area who cannot leave their homes due to high risk of contracting the COVID-19 virus. Monica Sliwa, a second-year doctor of pharmacy student, and her sister, Milano Sliwa, are leading the effort, with assistance from Monica's classmate, Afrooz Sabouri. "The services we need are either shop only, deliver only, or shop and deliver to homes. We want to make sure to keep everyone safe. Since we have more than 10 volunteers, we've created a required list of precautions for both the volunteers and people receiving the service, with the help of another Skaggs School of Pharmacy faculty member, Jonathan Watanabe, PharmD, PhD. Taking precautions and following the guidelines are our main priority." Read more on this wonderful story at http://ow.ly/sLJh50zmNHr! 
---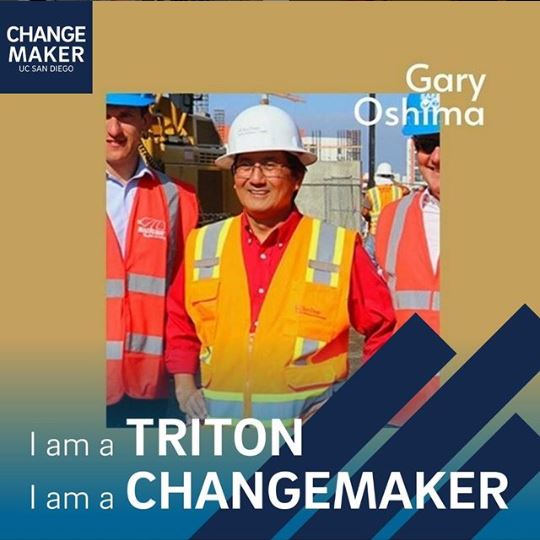 Gary Oshima is the campus' Construction Commodity Manager and is responsible for bringing the first recycled plastic asphalt road in the United States to UC San Diego. He has moved us one more step towards being a sustainable campus and has drawn national attention to this new process. Cities like San Diego, Los Angeles and Oakland are now considering the product for paving their streets and rely on Gary as an expert.
Gary also serves as a consultant for CalTrans and the Department of Transportation, both of which are studying the performance and impact of recycled plastic asphalt. Due in part to the UCSD trial, two new manufacturers in California have signed license agreements to source the waste plastic locally and supply this product to the growing market.
Gary's efforts and the success of this project have the potential for incredible impact, both locally and globally. He is an outstanding member of our campus community and upholds the University's mission to teach students to open their minds to new ideas and reach beyond the status quo.
---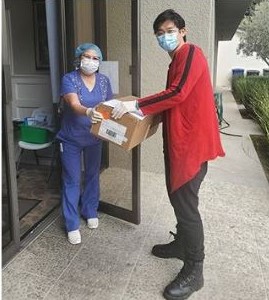 UCSD Triton Harry Zhu contributes to Changemaking by delivering face masks to senior care facilities. Zhu is the founder of a nonprofit called South Bay Senior Care Organization and could not visit the elderly during the COVID-19 outbreak, so instead he delivered face masks to serve his community. We're proud to have Harry Zhu as a Triton Changemaker! Read more about Zhu here: http://ow.ly/bWST50zgBtl. 
/
/
---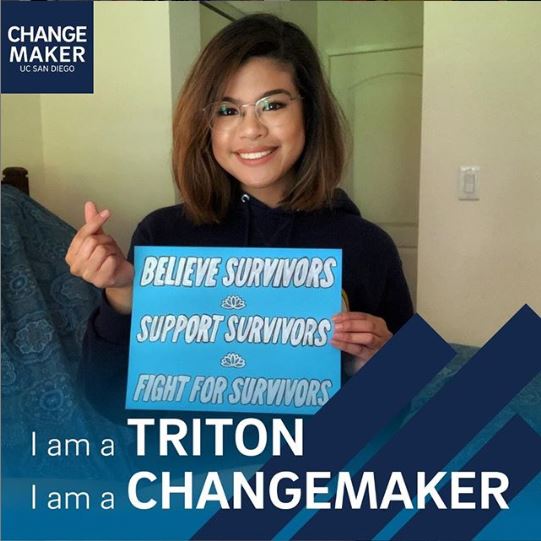 Changemaker Gia Pedro was accepted to be an It's On Us Campus Organizer in 2018. It's On Us is a national movement founded by the Obama Administration back in 2014. The campaign aims to combat college sexual assault by engaging young men and changing campus culture. To fulfill this mission, Gia and her co-board members established It's On Us at UCSD. "Our goal is to end sexual violence in the UCSD community by promoting sexual assault awareness, survivor support and bystander intervention. We contribute to changemaking and social innovation because we develop events, campaigns and projects that actively engage students in ending campus sexual assault. Allies and survivors are absolutely welcome to join! For more info, check out @itsonusucsd. #itsonus, all of us, to end sexual assault."
---
Samhita Iyer from Asha for Education at UCSD: "Most of us volunteers grew up in India, and are aware of the large section of India's underprivileged population that cannot afford basic education. Children often drop out of school early on, because their families can't afford to send them to school, and would rather have them work in agricultural fields or construction sites and earn for the household. Existing schools often shut down due to insufficient funds and resources. Teachers quit because they aren't paid well enough.
"'Asha' means 'hope' in several Indian dialects, and being blessed with this standard of education in the United States, we volunteers at Asha for Education at UCSD hope to empower and educate underprivileged children in our home country, through fundraising activities and raising awareness. Check us out on Facebook: 'Asha for Education- San Diego Chapter', or email us at afe.ucsd@gmail.com."
---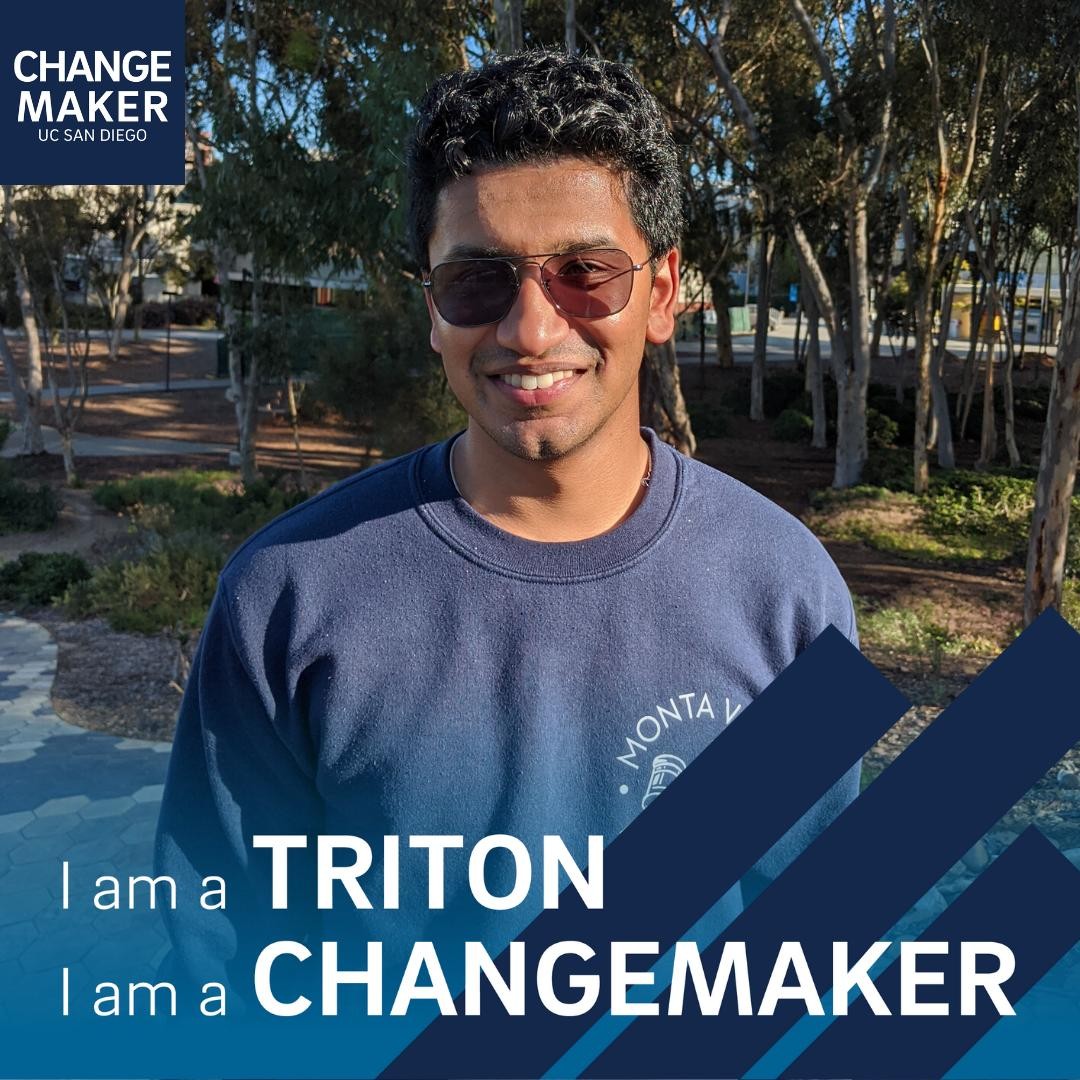 Triton Changemaker Adarsh Parthasarathy founded the Triton Transfer Hub with Student Success Programs to answer the urgent need for a transfer center on UC San Diego's campus. At an institution with 1/3rd of its undergrad population identifying as transfer students, there was a clear and present need for someone to step in and bring about positive change for transfers who often feel isolated and marginalized when compared to traditional students.
After founding the Hub, Adarsh was brought on as a Transfer Peer Coach and helped hire the inaugural cohort of peer coaches to staff the center and perform academic advising for transfer students. In his capacity as a Transfer Peer Coach, Adarsh has not only continued to serve the Triton Transfer Hub as an employee, but has also given his time to help design the new home of the Hub in the Pepper Canyon West transfer housing development.
---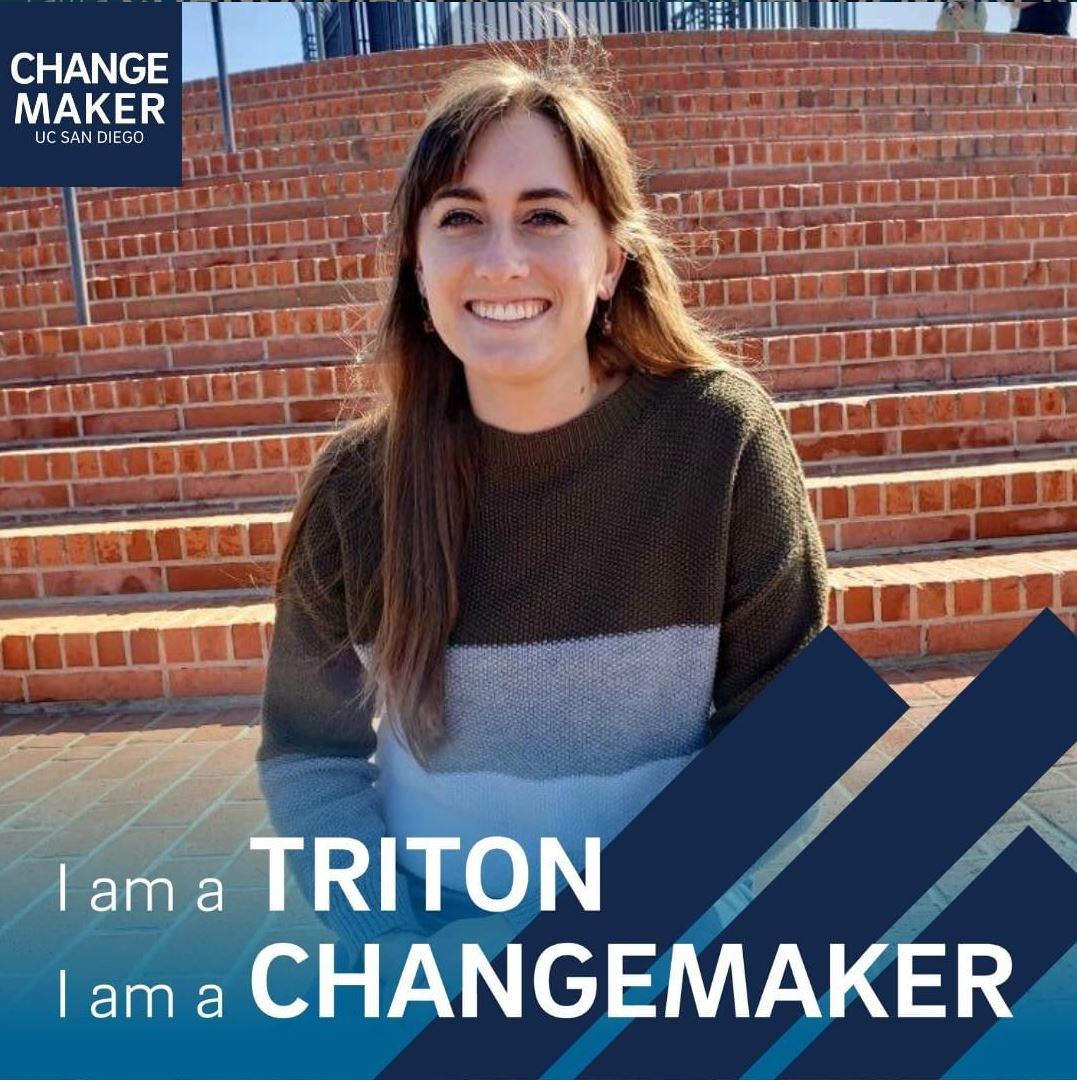 Changemaker Christy is from Food Recovery Network at UCSD. We asked Christy, how does the Food Recovery Network contribute to Changemaking? This was her response: "Food Recovery Network (FRN) at UCSD operates the Fresh and Full Food Transportation program (3FT), which recovers and delivers food that would otherwise go to waste to food insecure students and community members. We run two weekly food distributions at the Hub Basic Needs Center so students in need can access a hot meal of recovered food, no questions asked. We also support the Triton Food Pantry with fresh produce gleaned from the Hillcrest Farmer's Market and grocery items from a local Vons. The food recovery movement is at the intersection of food waste and food insecurity, and 3FT program allows students to take part in this work and provide basic needs assistance for fellow students."
---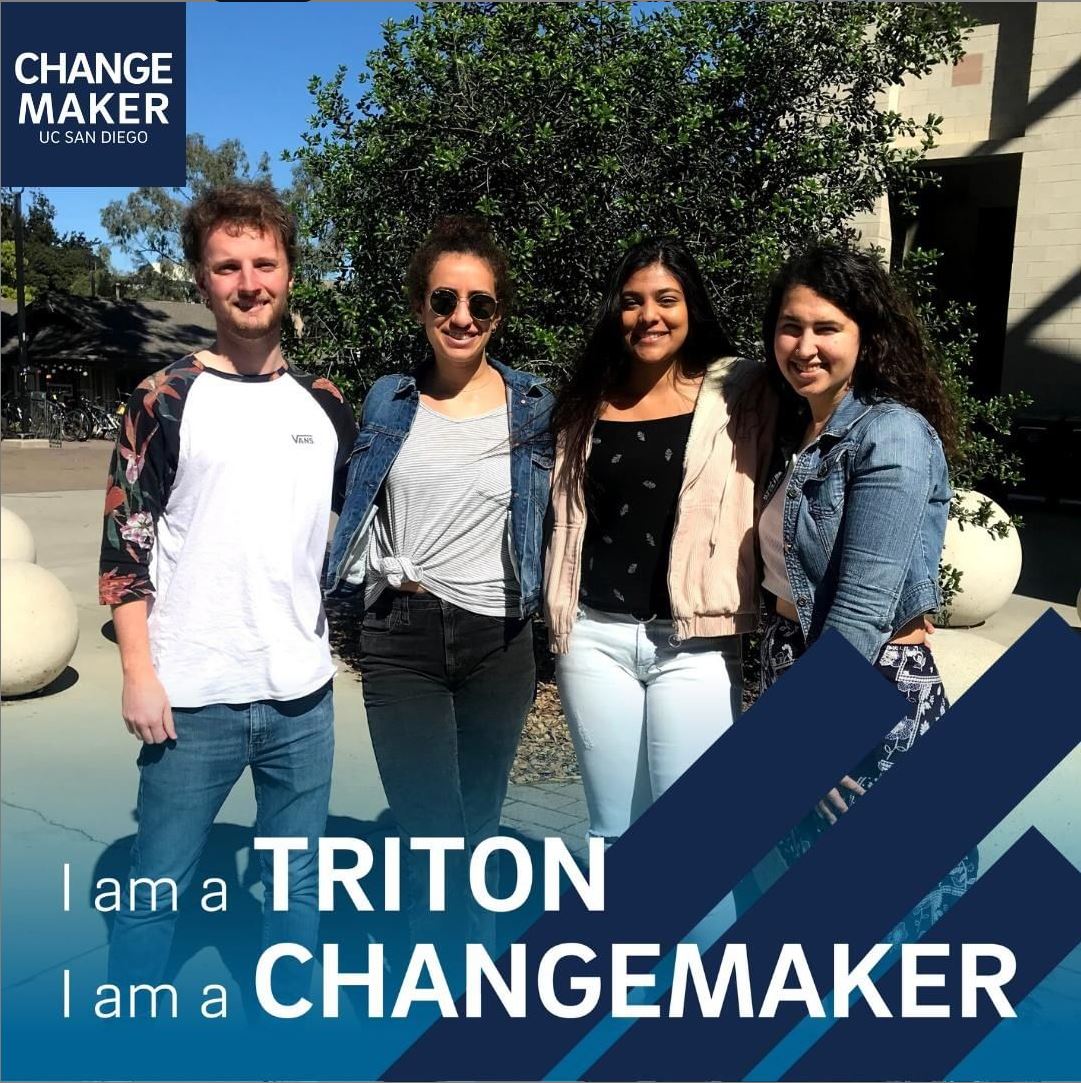 Giselle from the Homeless Charter speaks on her experience as a Changemaker: "I joined Homeless Charter my second year of college and have never looked back. We make sandwiches for the homeless through events with other organizations, such as Greek orgs, and then deliver all sandwiches to a shelter downtown. We always go to the same shelter and have formed quite a relationship with the people. We are constantly looking at new ways to help the local homeless community because at the end of the day, they are people just like us."
---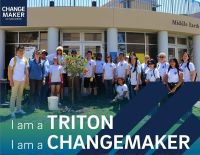 Today we feature Katie from Grow at UCSD and her role as a Changemaker! "Grow acts as the coalition for the student gardens on campus to provide a space for collaboration and support. Together, we facilitate access to healthy food, build composting programs for campus food waste, and support initiatives such as the Thousand Tree Initiative by hosting tree plantings whenever possible. To get involved, contact us on our Facebook page, Grow at UCSD!"
---
Today we feature Changemaker Murad Gondal: "Hey! My name is Murad, I'm a 3rd-year Management Science Major and I'm Executive Vice President of UCSD Global Business Brigades. Global Business Brigades is a part of the larger Global Brigades organization. Our ultimate goal is to travel to a foreign country in the summer and engage in micro-consulting with local banks and enterprises, and perform a charla for students at local elementary schools to teach kids the importance of financial literacy! We believe in global brigades holistic model of sustainable development, as we follow up on important work conducted by medical and dental brigades! We traveled to Panama last year, which was a very significant experience in all of our lives as we learned a great deal about entrepreneurial spirit and the power of community. Our organization on campus consists of some of the most inspirational people I've met, and friends I have made for life. We are currently collecting funds for our trip this summer. You can check us out and learn more about us at @ucsdgbb!"
---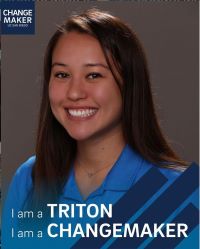 Colette contributes to Changemaking through her work in Gift of Life at UCSD! "Gift of Life at UCSD is part of the international non-profit, Gift of Life, whose goal is to find matches for patients with blood cancers by expanding the bone marrow registry. We run swab drives and awareness campaigns on campus to add as many students to the registry as possible. As of right now, people of color have significantly lower chances of finding a marrow match if they are diagnosed with blood cancer. Our team on campus consists of dedicated and caring students who are fighting to ensure that every person diagnosed has an equal and an increased chance of finding a match. So far this year, we've added over 250 people to the marrow registry and with each person swabbed we're hoping to not only beat the odds, but change them as well. Please check us out on Instagram @giftoflifeatucsd!"
---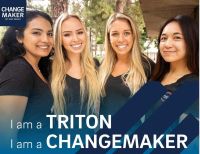 Kristina Padilla (2nd from the left) contributes to Changemaking through GlamourGals at UCSD: "GlamourGals at UCSD is committed to providing companionship to residents in senior homes through manicures and makeovers. Every month we have the opportunity to bring the community to these residents, listen to their stories, and build new intergenerational friendships. Although we are creating a change in the lives of our senior population by helping end senior loneliness, we also experience a change in our own lives. Through GlamourGals, each member learns the importance of giving to our community and creates a service-minded foundation that they will take into their professional lives." Check out more of GlamourGals at UCSD on their Instagram, @glamourgalsucsd!
---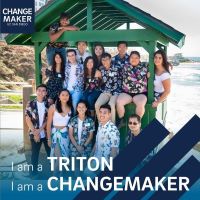 Kylie Tran, President of UCSD's Circle K International, contributes to Changemaking through her organization. "UCSD Circle K International is the ultimate way towards connecting people to a community that provides impactful service to those in need. We participate in community services such as tutoring elementary school kids, working in soup kitchens to feed the homeless, and playing basketball with kids with disabilities. Our community consists of passionate, caring and amazing individuals that are changing the world with their love to serve. With endless opportunities, our leaders are consistently helping others one project at a time. Learn more about our organization at https://ucsdcirclek.com."
---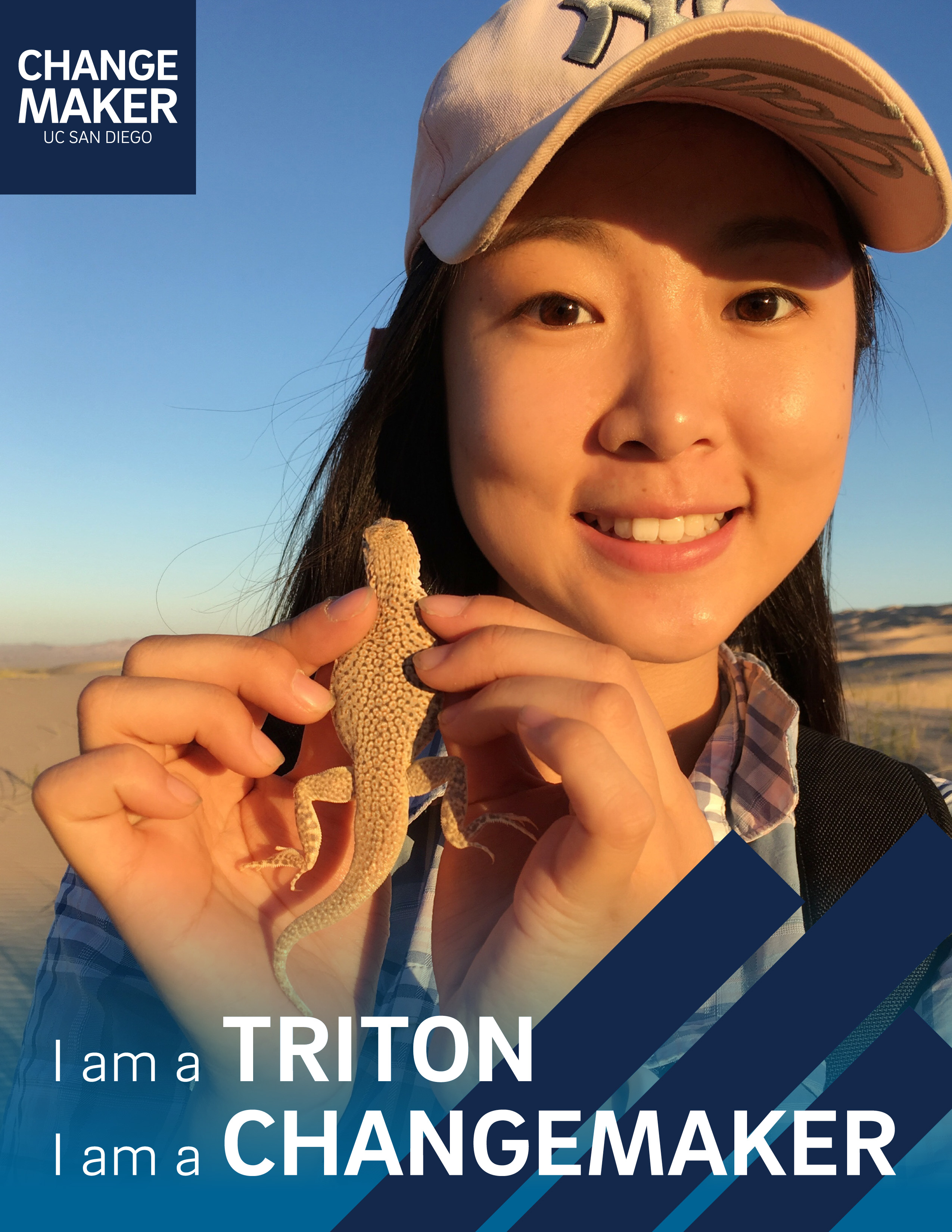 UC San Diego Changemaker Ziyi "Iris" Wang cares about environmental conservation and sustainability so she chose Ecology, Behavior, and Evolution (EBE) as her second major and spends her time performing ecology research. 
"In my first quarter here at UC San Diego, I took BILD 3 Organismic and Evolutionary Biology, and I was fascinated by the diversity and beauty of nature. While I was excited to learn more about the environment I live in, I also felt sad that we are losing habitats and animal species at a shocking rate. From both the aspect of intrinsic value and the ecological services/functions of the environment, I am dedicated to making a difference, even just educating the people around me about the knowledge of climate change and action we can do to help our mother earth. 
In summer 2017, I stayed in Mojave desert for three weeks collecting animal tissue samples for my snake project. Since the specific rattlesnake species I work with are most active during the night, our team worked in the field every day from sunset to sunrise. Every morning, the sun gradually rose from the horizon, glazing everything with a warm tone of golden--over the yellow sand dunes, purple mountains, and blue sky. At that moment, my tiredness evaporated, and my heart was filled with inspiration, refreshment, and encouragement. I felt my passion for field research and ecology, and I am ready to take on any challenges and embrace a brand new day. 
Studying ecology helped me gain a better understanding of the world, nature, and environment we are living in: from why the sky is blue to why bee has the coloration of black and yellow. It also introduced me into a wonderland of life histories and a world of scientific thinking. 
To me, being a changemaker means promoting science literacy, bridging science and the general public through exposure to both local and global environmental issues. There's so little and so much we can do as individuals, but I wish to have an influence on the community I am in, so the message of environmental conservation and sustainability can be echoes, awareness can be raised, and actions can be put into practice."
---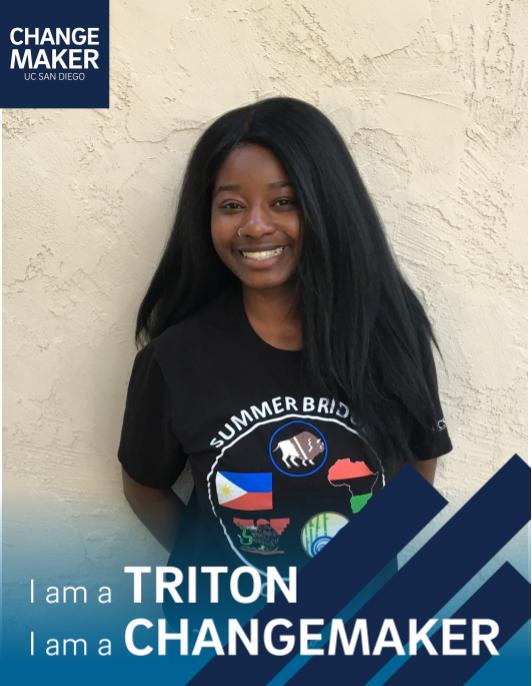 UC San Diego Changemaker Alyssa Dawson is passionate about serving underrepresented and underserved students so she devotes her time working at the Office of Academic Support and Instructional Services (OASIS) which offers academic services through peer led tutoring and workshops in math, science, and writing, as well as peer guidance and counseling. 
"After having the opportunity to participate in OASIS' Summer Bridge Program the summer before my first year, I felt that I had found a community and a space where I would learn and grow as an individual. I wanted to continue to be a part of the community and continue to support other underrepresented students in the way that OASIS had and continues to support me. 
One of my favorite moments working with OASIS was the final Dimensions of Culture (DOC) workshop that I facilitated. This had been my first quarter facilitating a workshop, and by the end of the quarter, the students described how they bettered their own understanding of the writing process and DOC as a whole. It was an affirming moment for myself to know that in some ways, be it through relationship building or writing support, I was able to support other people in their college journey.
Being a changemaker is an ongoing process of challenging oneself and being open to change in order to build and create equity and community."
---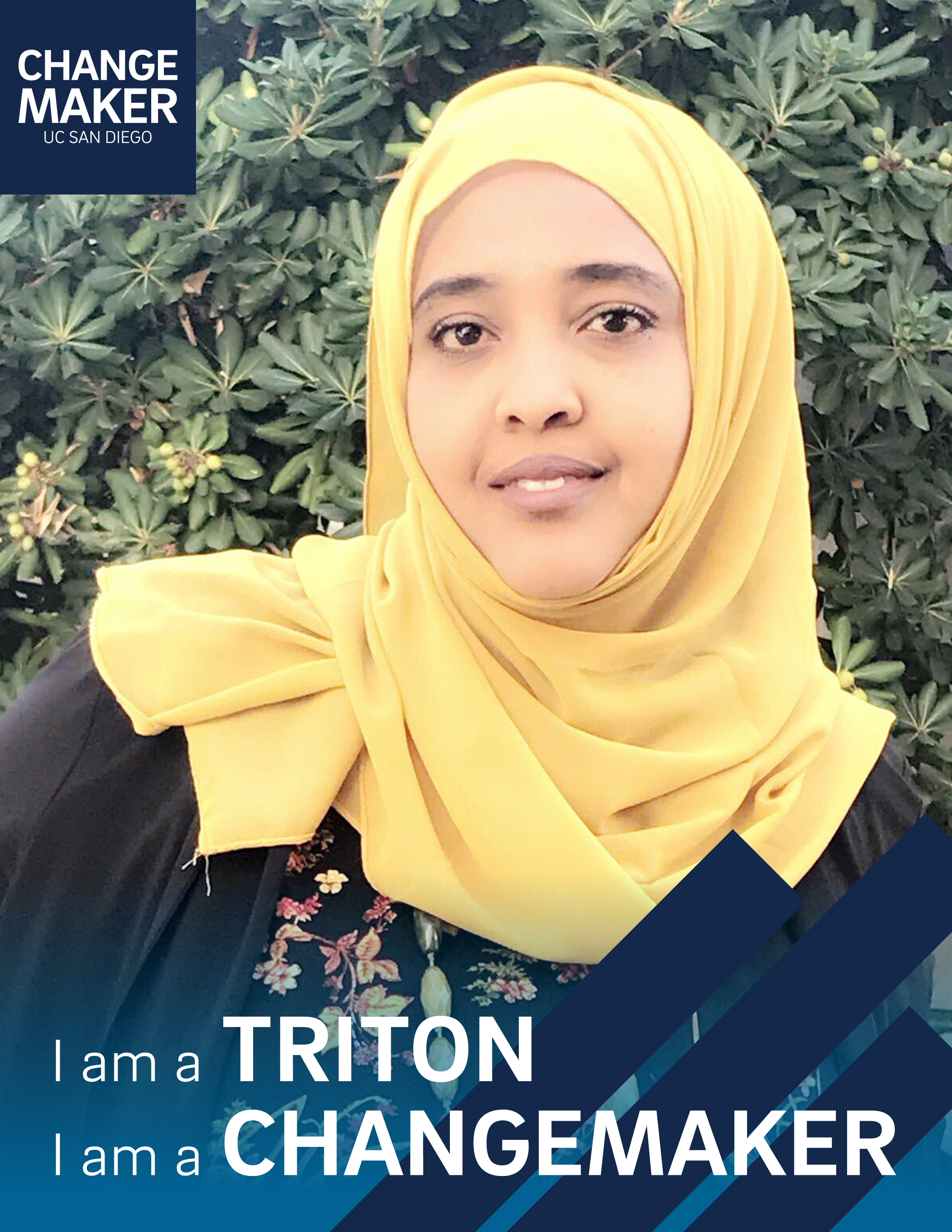 UC San Diego Changemaker Amina Sheik Mohamed cares about health equity and policy for multicultural low-income populations. In her role as Director of Community Mobilization Programs within the Center for Community Health, she has created environments that encourage healthy eating and physical activity, encouraging reducing obesity and chronic diseases, including Refugee Health Unit which focuses on providing refugees with the tools they need to live healthier lives. 
"[I'm inspired to give back due to] seeing firsthand the struggles and challenges refugee and immigrant women and their families experience trying to navigate bureaucracies and systems failures. I feel a deep sense of responsibility, being someone who has resettled San Diego and has direct experience where I felt deep inequality to access services. 
I am now in a position to help families who are experiencing an immigration story far from mine. I feel compelled to do everything in my power to achieve equity and justice for families. I was driven to this work because I see it for its possibilities and because I have authentic and deep roots/relationships with the very communities I am trying to help. My interaction with the community is not transactional and goes beyond helping one person at a time. It is about creating change that lasts and benefits generations. It's also about fighting to keep those wins. 
All of us have the capacity to make change. We just need to take the initiative. To quote Alice Walker, a famous American author, 'We are the ones we have been waiting for.'"
---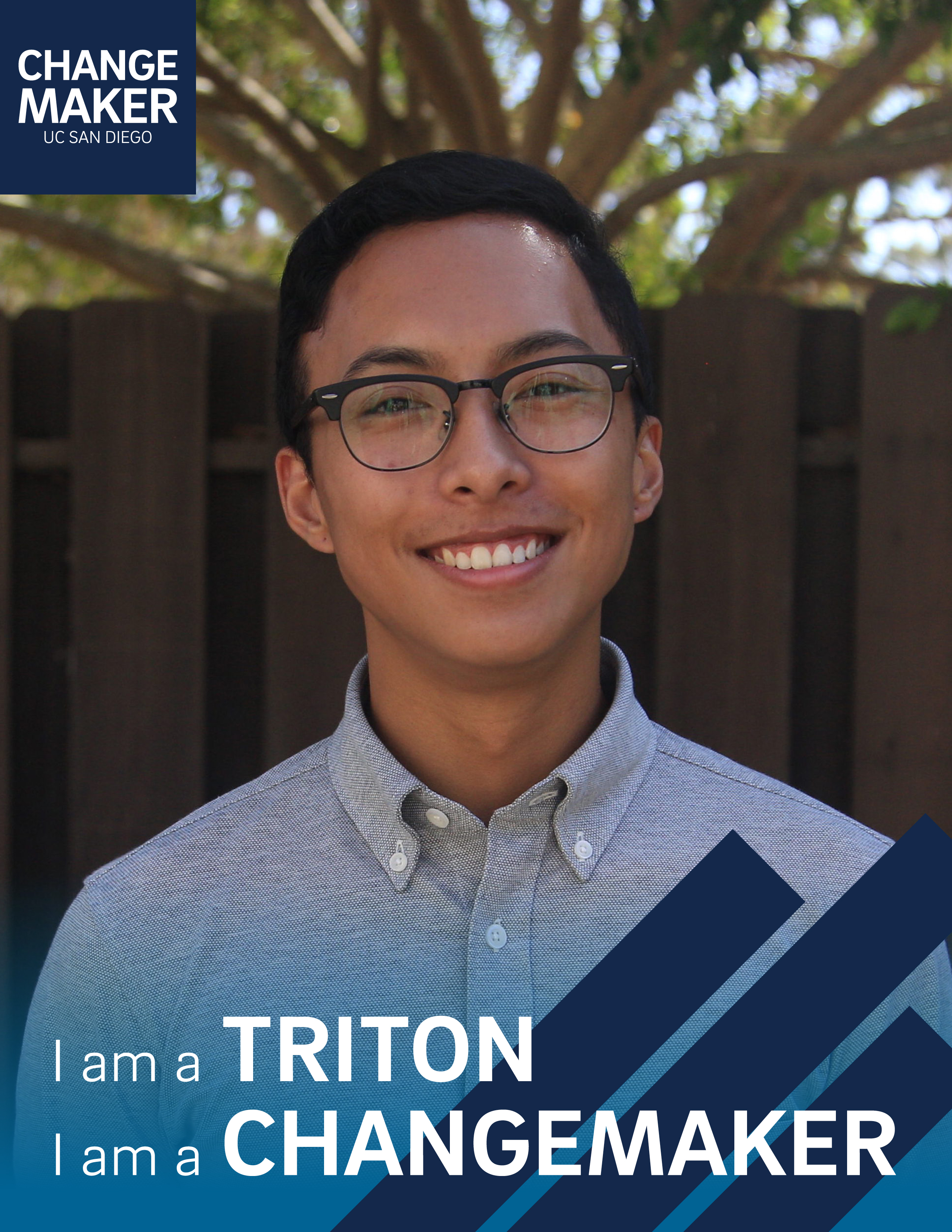 UC San Diego Changemaker Eric Richards cares about our local community so he spends his time with Design for America UCSD, a student organization that addresses a societal challenge and create social impacts.
"To me, being a changemaker means inspiring and leading others to use what they know to help serve and better our communities. I was inspired to join Design for America because I felt it was the first opportunity I had to use what I learned in school for social good. Since I joined DFA, I learned that I want to continue to pursue work that addresses complex social challenges in my future. 
Now, my favorite part about Design for America is introducing other students to our organization and giving people a chance to use what they know to make a positive difference in the world."
---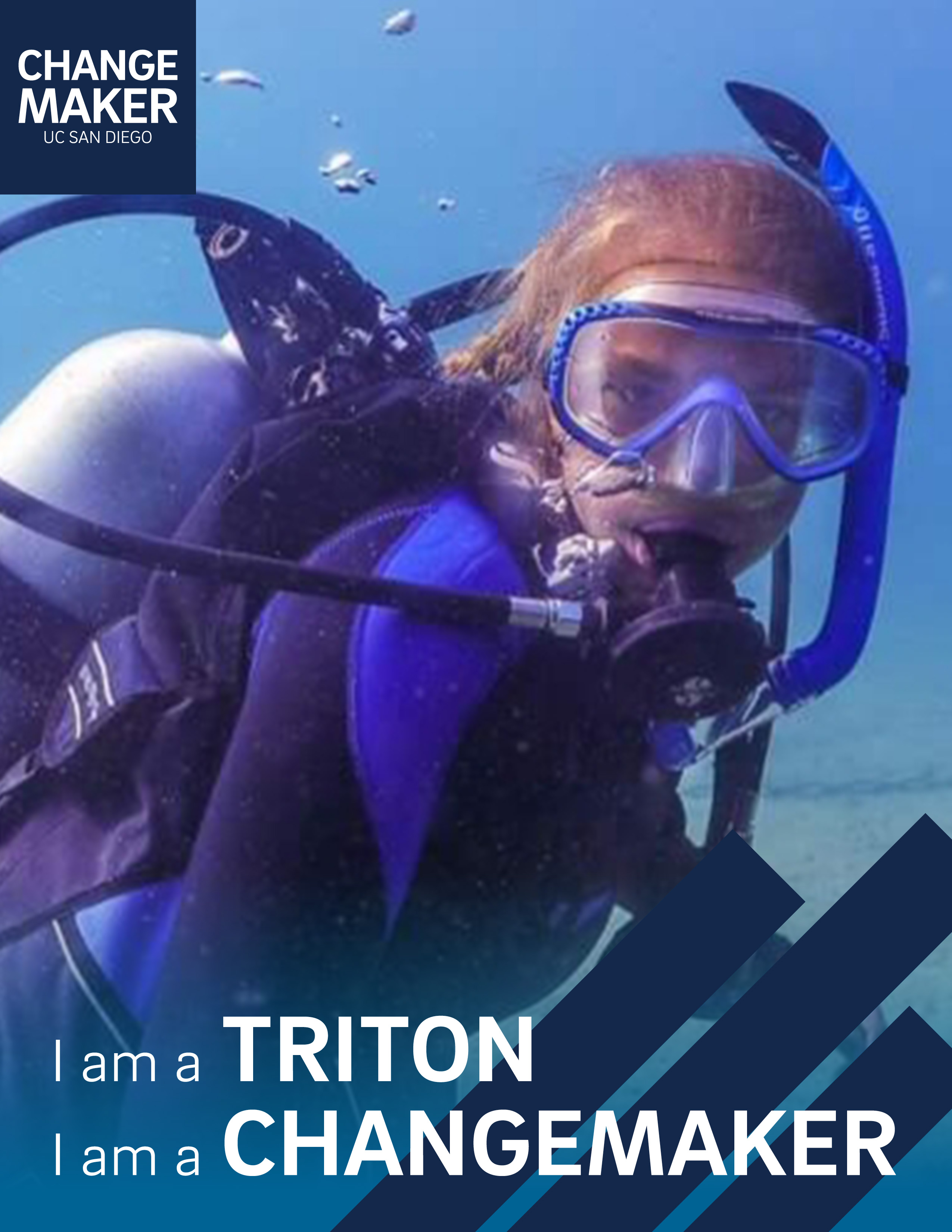 UC San Diego Changemaker Rey Lautenschlager cares about encouraging UCSD students to go outside of their comfort zone and explore outdoors so she trained to become a guide for Outback Adventures. Outback Adventures organizes and runs adventure trips for the UCSD community focused on rock climbing, hiking, backpacking, surfing, canoeing, kayaking, and more. 
"Training to be a guide for Outback Adventures has taught me so much, both about surviving out in the wilderness, and about how to be a leader and mentor for my peers. Outback Adventures offers students the opportunity to get out in nature and take advantage of all the incredible places California has to offer. 
Being a changemaker for me is about looking at the world and seeing opportunities. Opportunities to improve the lives of those in need, the situation of our planet, and future of the world as a whole. Changemakers take action, and try to inspire those around them to do the same. Changemakers work to make tomorrow better than today."
---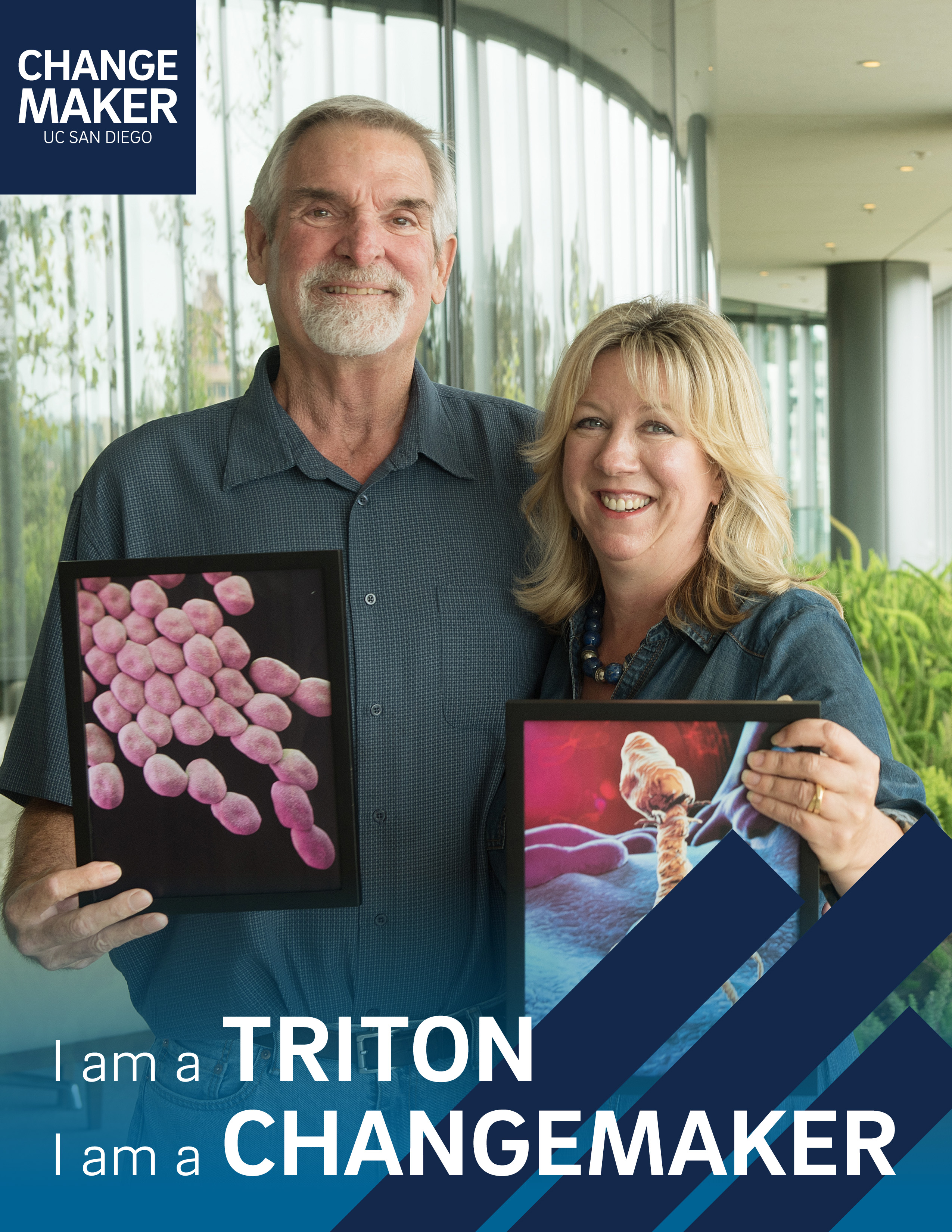 UC San Diego Changemaker Steffanie Strathdee wanted to save lives so she chose to become an infectious disease epidemiologist. Her work would end up saving many- including her own husband's life. When her husband was sick with a multidrug-resistant bacterial infection, Strathee used innovative phage therapy to save his life. She started Center for Innovative Phage Applications and Therapeutics and hopes this innovative therapy will save many others. 
"While I was in graduate school, my best friend and my Ph.D advisor died of AIDS within a year. It was then that I pledged my career to trying to stop the spread of infectious diseases, which are largely preventable. 
My work on phage therapy has taught me that the word 'kind' in humankind still exists. Researchers, doctors, nurses, and staff across the UCSD campus, along with total strangers around the globe helped me cure my husband's superbug infection with phage therapy. His case has brought forward a forgotten cure that may be a solution to the global superbug crisis. 
Being a changemaker, to me, means taking risks without fear of failure, knowing that it is possible for a single person --or an idea-- to change the world." 
---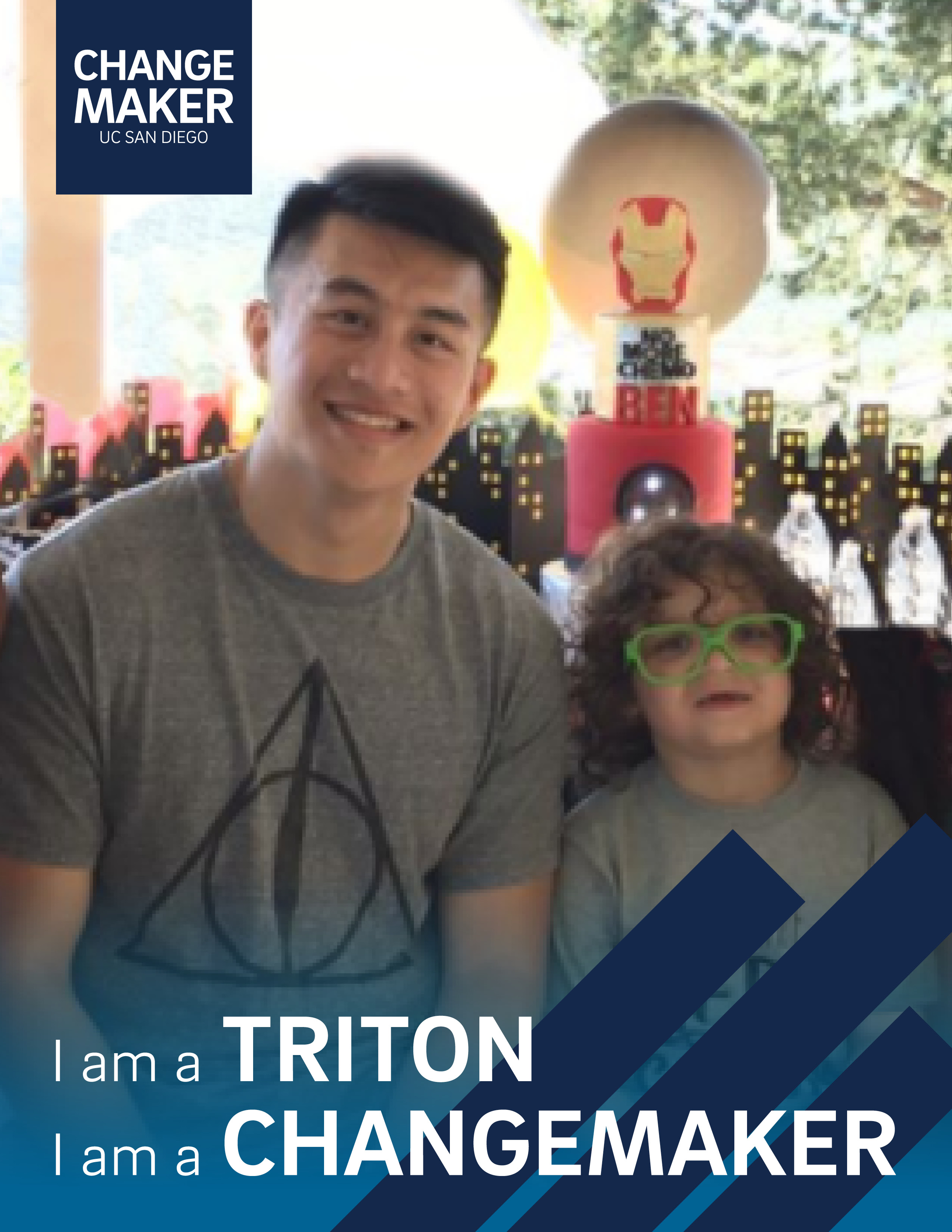 UC San Diego Changemaker Jerry Cheng wanted to be a superhero for the children who need it most. He is the President of Love Your Melon, an apparel brand which aims to put a hat on every child battling cancer in America and support the fight against pediatric cancer. 
"I actually joined this organization completely due to chance. They were a suggested page on my Facebook newsfeed. My favorite memory of Love Your Melon was the adventure we planned for Ben. Ben is six years old and he absolutely loves the Hulk. Ben was diagnosed with leukemia three years ago, but that hasn't stopped him from fighting for what he loves. We decided to write a story for Ben about Ben, and we brought that story to life. We wanted to remind Ben that he's the superhero we all look up to, and Ben reminded us how to be happy even in the darkest of times. Today, Ben is cancer free! I learned that superheros come in all shapes and sizes, and sometimes they're hidden right before our eyes. 
Being a changemaker means taking a step back from your own life and devoting yourself to bettering the world you live in. Being a changemaker doesn't always mean you'll change something, but it means you're willing to try."
---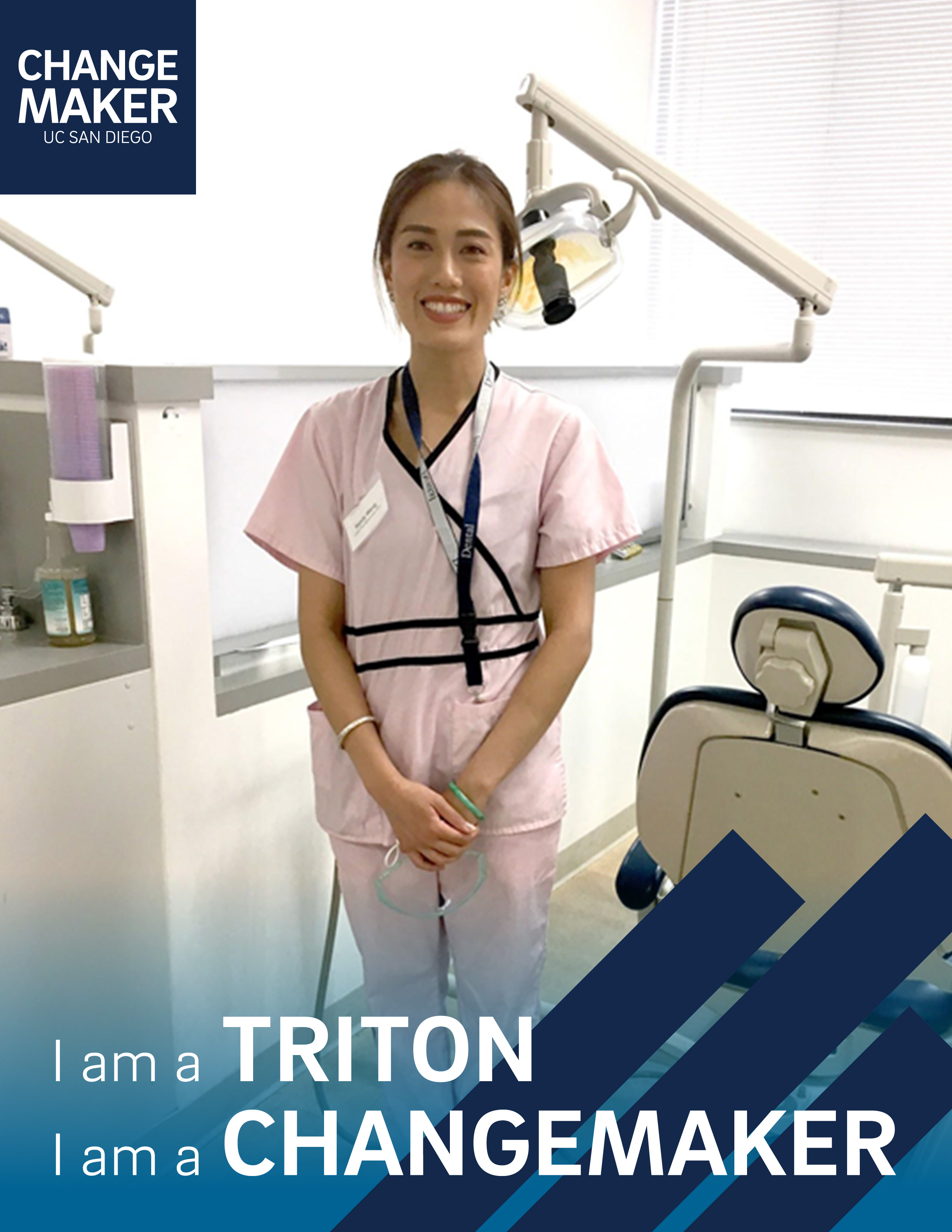 UC San Diego Changemaker Sandy Weng wanted to serve members of the community who lack access to healthcare. She is the Student Clinical Director of UCSD Student-Run Free Dental Clinic Project which offers 4 clinics to serve those who are low income, uninsured, and/or homeless
"One day, a grandmother of our patient came to our Lemon Grove dental clinic. She was simply the guardian transporting her grandchild to their appointment for that day. I offered her an appointment to become a patient with our clinics as well. She was ecstatic to the idea she would become a patient that we could take care of. After one year, we finished her treatment plan and she is completely cavity and pain-free. She now happily comes into the clinic for periodic check ups, and she's the grandmother we all recognize. 
Through my volunteer experience with the organization and Student-Run Free Dental Clinics, I have cultivated a greater sense of compassion for everyone around me."
---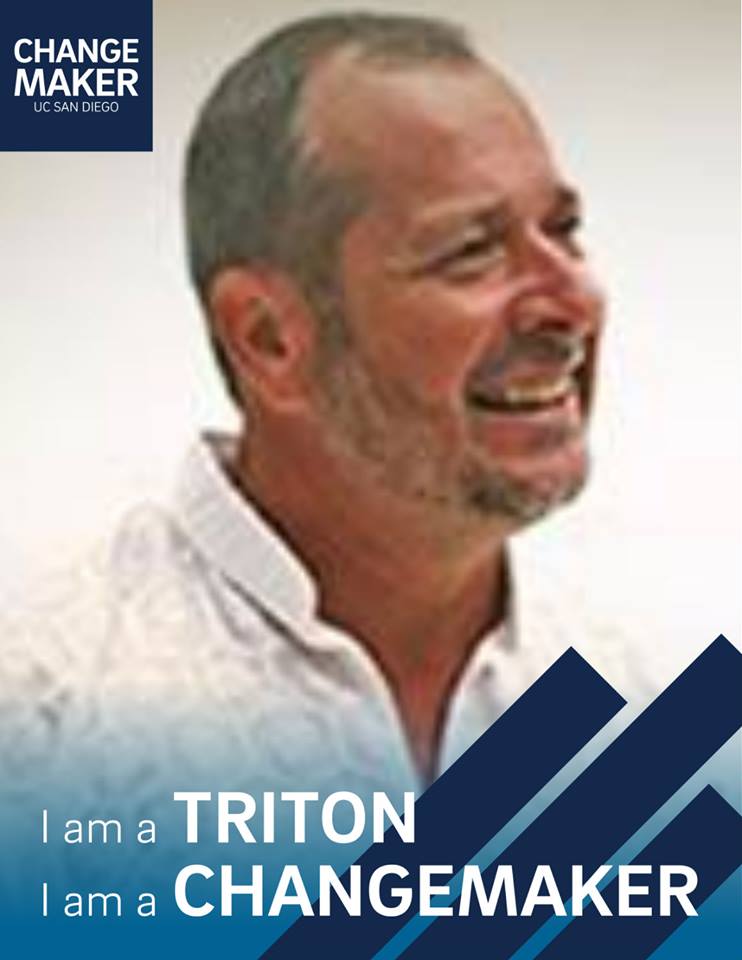 UC San Diego Alum Neville Billimoria has spent 36 years investing in the UCSD community through serving on the UCSD Alumni Board of Directors, multiple campus advisory boards and volunteering countless hours to campus initiatives and events. Additionally, he founded a Traditional Martial Arts Club on campus for students, faculty, and staff that is the longest running recreation class at UC San Diego. 
"Having been the victim of racism, exclusion, and incivility growing up, I now strive to be a peaceful warrior for social justice. Changemakers are committed to positive social change which fundamentally is all about social justice and equity design if we are to model the highest aspirations of genuine whole-person education on our beloved campus. 
We need to hold ourselves accountable for the whole student experience not just academic achievement. People don't care how much you know until they know how much you care. Invest in social capital not just human capital, because we are wired for connection and real relationships matter. 
No matter how long you spend in school, classroom learning is but a small subset of where lifelong learning and growth happen. If we don't connect with the hearts and souls of all the stakeholders in the ecosystem we are just moving seats on the Titanic and not fundamentally advancing human potential through education. As part of the Alumni Board, Tritons can use the trident to remember the three prongs of Leadership, Advocacy, and Service."
---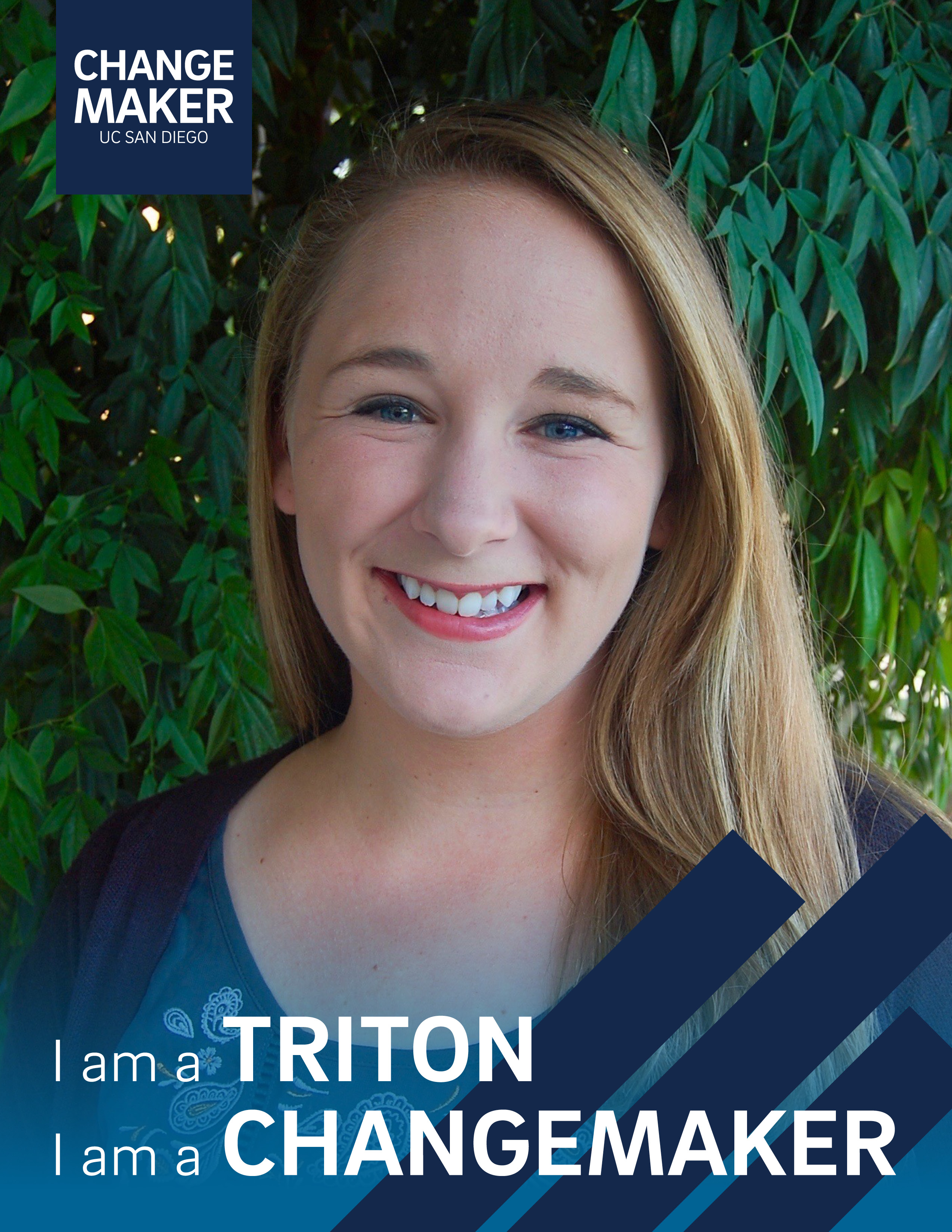 UC San Diego Changemaker Danielle Burner wanted to change the pre-medical students culture of competitiveness and silent struggle with mental health issues. To address this, she created MED Talks.
"Students who attend UCSD were top of their class in high school. When you pool these high achievers together in the same classroom, the adjustment is hard and can bring up a lot of anxiety or self-doubt. This was especially true during my freshman year, during which I developed a habit of isolating myself from my pre-health peers. The worst part was that I felt constantly burned out but never asked for help because I was convinced these feelings were simply part of the pre-health experience. Over time I noticed that my problem was not unique and many pre-health students on campus were experiencing similar episodes of isolation and anxiety.
I created MED Talks as a way to break the ice on topics like burnout, work-life balance, and learning how to strive in competitive atmospheres. My hope is that this program will prepare students to become successful physicians who can thrive in a healthcare system that emphasizes collaboration and teamwork."
---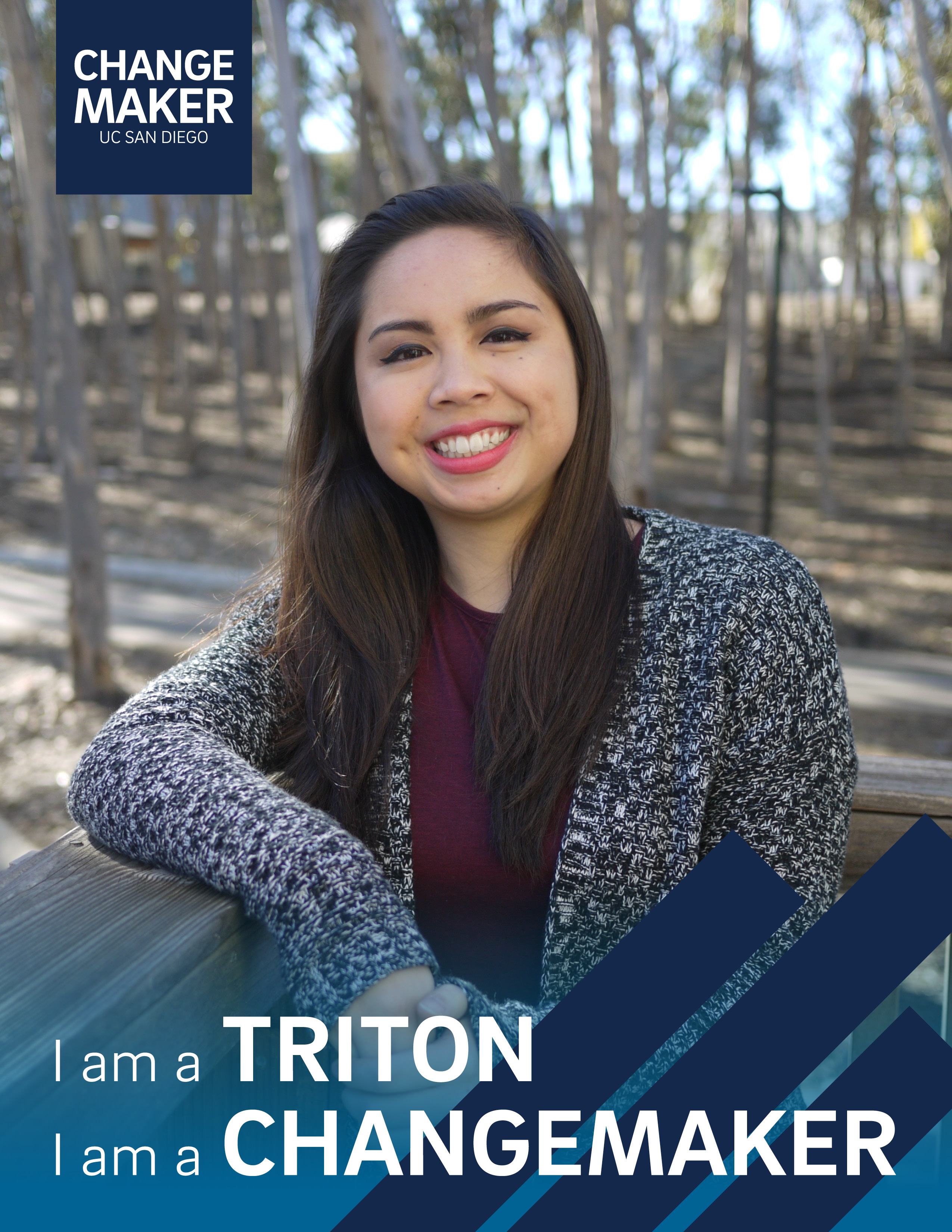 UC San Diego Changemaker Joelle Victoriano devotes time and efforts towards educating the community on "health and happiness". She is a student within the SHA program and uses what she learns within the classroom  to promote health advocacy on UCSD's campus.
"Through my experiences as a TA, I am able to give back to my community. While being a TA I  loved hearing our students excitedly and openly discuss the topics of consent, respect, boundaries, and various terminology related to sexuality, gender, and fluidity. For many of them, it was the first time they had formally learned or even heard of the material, and they embraced it with maturity and genuine intrigue."
My program continues to educate and inspire me to continue promoting well being and empathy amongst college communities. I use the skills to positively engage with and educate my peers on the most prevalent, relevant and often taboo subjects of college life."
---
UC San Diego Changemaker Kyle CosGrove wanted to serve and raise awareness of homelessness in San Diego County so he joined The Homeless Charter. The Homeless Charter the organization strives to promote unity within the student body of UCSD by involving many UCSD student organizations in the weekly sandwich-making and annual clothing drive events.
"Being considered as a "changemaker" at UCSD is a special honor but, truth be told, I feel like there is always something more each and every one of us can do to make an even greater positive impact on the world; all it requires is taking a few small steps in the right direction.
My  fellow members and I were able to host a breakfast and tutoring session for a local secondary school downtown. I saw how elated many of the young students we were tutoring were when they knew they got to complete their assignments with UCSD students. That day, we were all strong role models and I was most definitely not the only "changemaker" present!"
---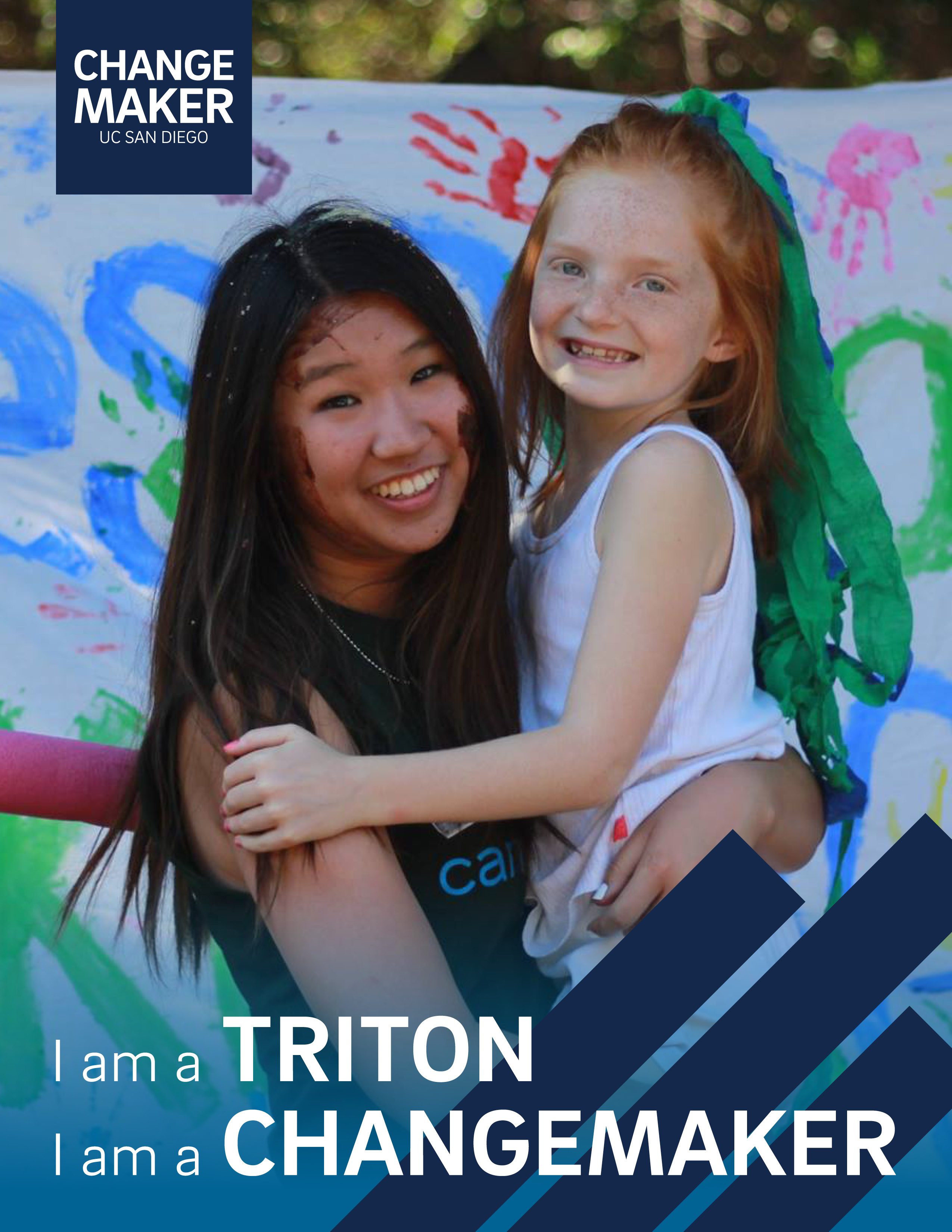 UCSD Changemaker Juliann Li wanted to helping children affected by a parent's cancer so she participants in Camp Kesem. UC San Diego's chapter sends 200 children every summer, ages 6-16, to two separate weeks of camp, completely free for their families.
"My first year of camp, one of my campers was homesick and refused ot participate in activities. After spending time with her and getting to know her, we started singing her favorite songs from the radio and she really opened up. Afterwards, one night during cabin chat, the question was 'Who is your hero?' and she answered me, saying she hoped to be like me when she grew up.
I hope that no matter what I become, where I go, or who I'm with, I will constantly be able to positively impact the lives of others and those around me. Being a changemaker means helping others for the better, and I hope to keep doing this beyond college and wherever I go."
---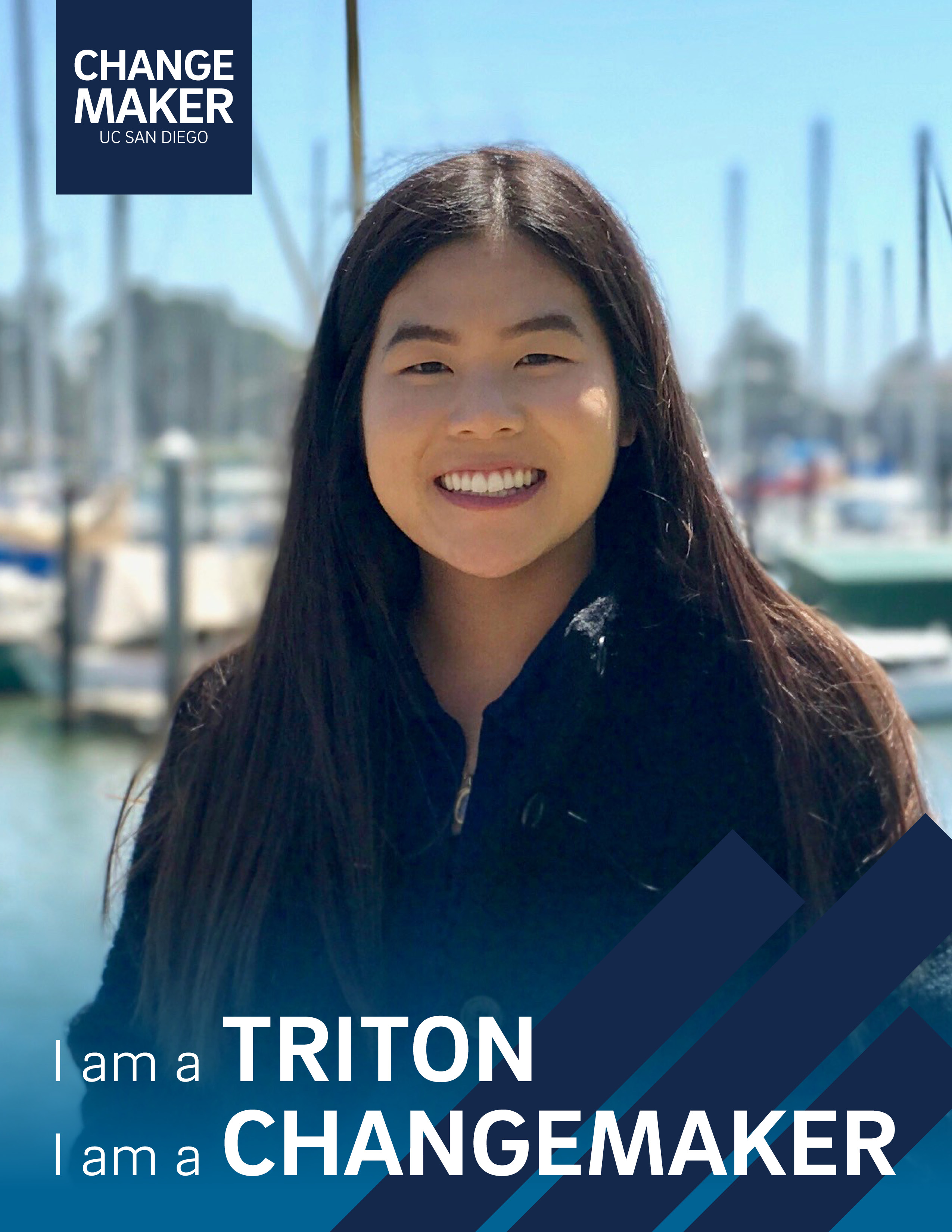 UC San Diego Changemaker Melissa Vajanaphanich wanted address the development of chronic, non-communicable diseases in Belize. She started Project P.E.A.C.H (Promoting Eating Access for Children's Health)  a social innovation which increases fruit and vegetable intake through accessible produce and garden-based curriculums.
"Imagine traveling to a tropical paradise where for seven days straight, you eat nothing but rice and beans because battered fruits like a blackened banana cost 2 USD. As a visitor to Double Head Cabbage Village, Belize, this was the harsh reality that I faced but to the local people of Belize, this was the daily norm. As a contributor to an international, online food publications (Spoon University) and as a major foodie, I felt unsettled coming back to the United States where fresh produce are abundant and just minutes away at local grocery stores and farmers market. That is what inspired my Project P.E.A.C.H.
To me, being a changemaker means being privileged with the unique opportunity to be the first drop in a ripple effect."
---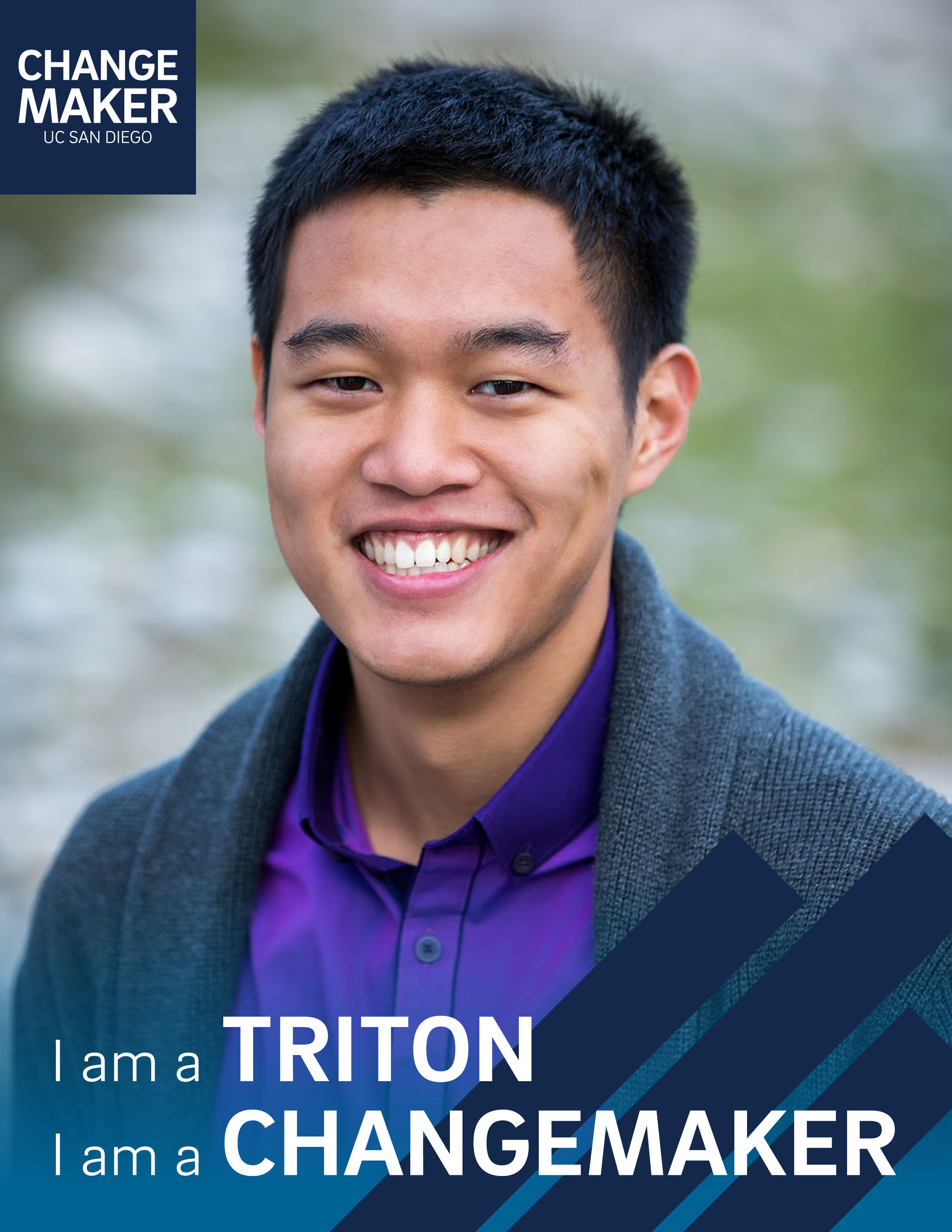 UC San Diego Changemaker Adriel Taslim is working at the U.S. Consulate General Chiang Mai as their Public Diplomacy Assistant. Adriel plans to use his experiences and education with Rady School of Management to promote the political stability of the region and cultural understanding between Western nations and Southeast Asia.
"I had studied violin performance in undergrad, but when I performed abroad in concerts organized in conjunction with U.S. Embassies, I found myself more and more drawn to the sort of work they were doing, i.e. cultural diplomacy.
I'm currently not affiliated with any one program or project—it's more of that I'm looking for areas that I enjoy in which my skills can be best utilized. For the past year, that's been government agencies like USAID and Department of State. Change is slow and requires patience. Yet with persistent and directed efforts, we can make a difference. While individual efforts may often go unnoticed, it is the culmination of our efforts that will pave the road to a better future."
---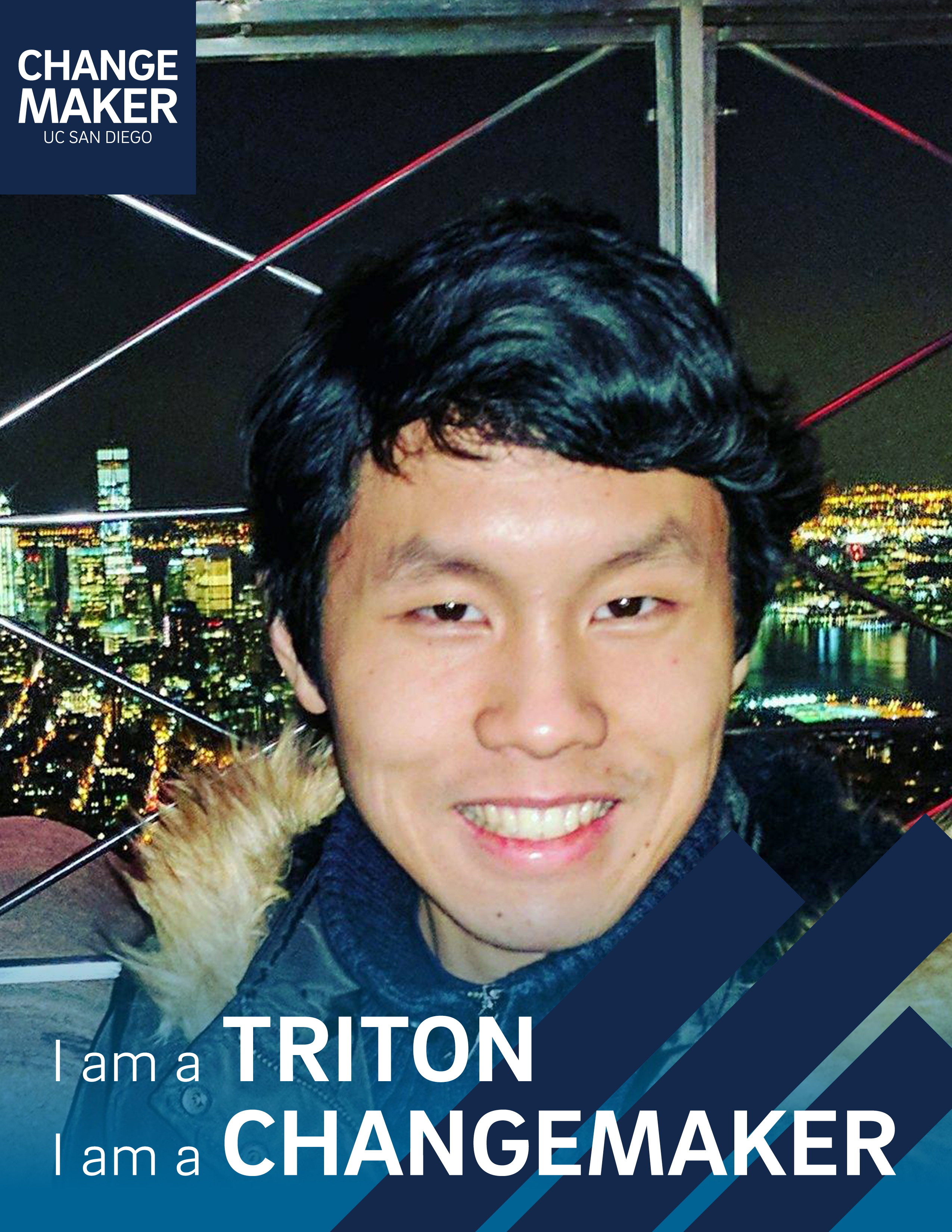 UC San Diego Changemaker Hans Yuan wanted to improve efficiency of emergency services in developing communities so he started social innovation project called  Revolutionizing EMS in Developing Communities which uses historical data with mathematical and algorithmic models to create actionable information on how ambulances have been dispatched and how ambulances can be dispatched in the future.
"My involvement didn't start off at an extremely fast pace. I started getting involved through the Global TIES - ENG 100L class without much of an idea what would happen in the class. After being involved in ENG 100L for a year, I asked out of interest about another portion of the project that had not yet been started. The professor and I eventually setup a CSE 199, a 4-unit one-on-one class that initiated my venture into reading research papers on optimizing and analyzing ambulance dispatch. A couple of papers talked about simulating the ambulances responding to calls, which sparked my interest in writing a simulator for ambulance dispatch. It's really easy to desire change, it's another story to attempt it.
When trying to combine my past experience along with the knowledge gained from research papers, moving the project in some direction is easy. But at first it was difficult to quantify whether the project is headed in the right direction, and whether I was making progress at all. Unlike assignments from courses which are made to be very structured and directionally certain, this project was an exploration of the capabilities. Sometimes we hit a wall and turn back without gaining anything. Other times we got to some point without knowing how we got there, and end up having to retrace our steps.
To me, there are at least two components to being a changemaker - (1) having the power to influence the way the world runs and (2) not only desiring the change but imagining how such change can be done and then trying to."
---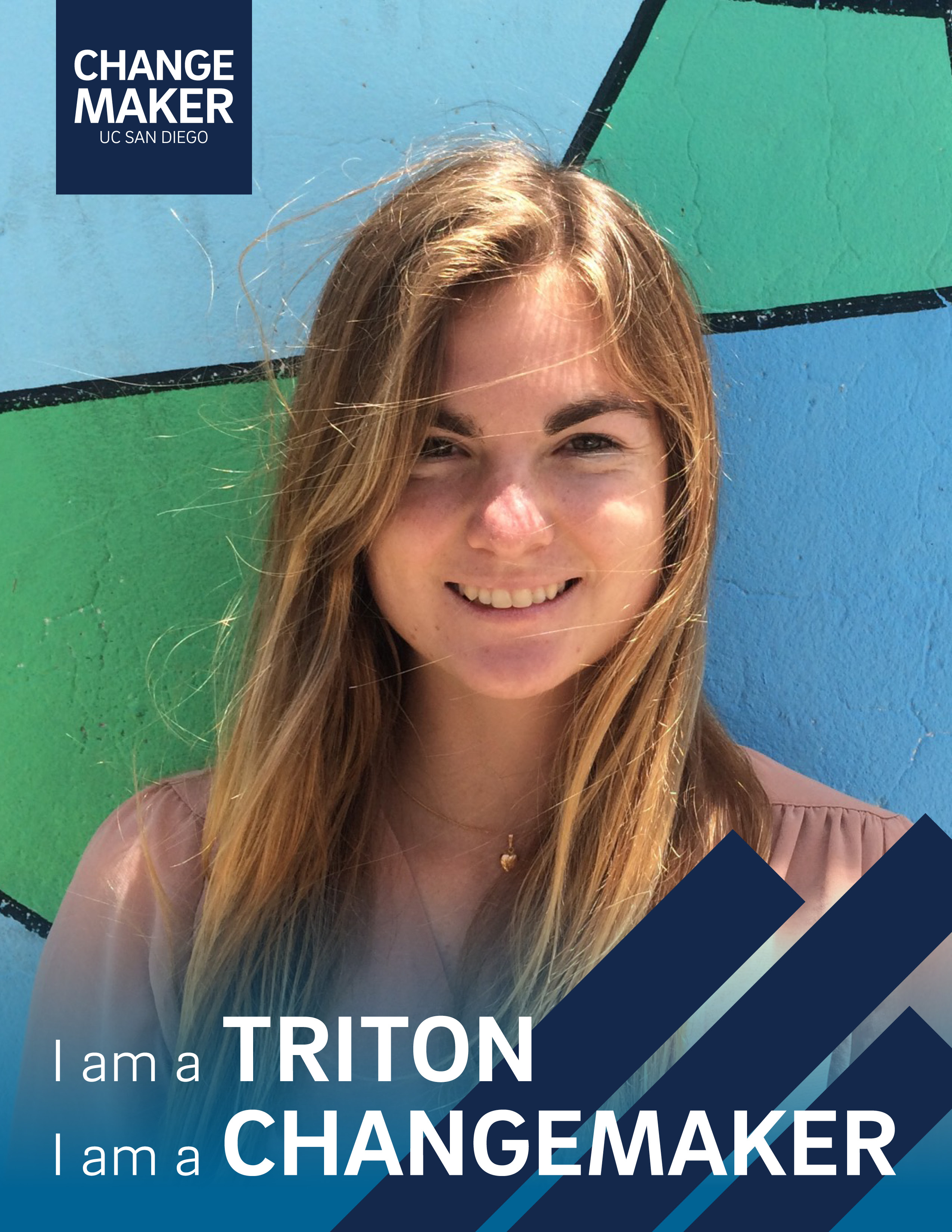 UC San Diego Changemaker Ella Stimson wanted to address' postpartum depression so she helped develop of the Amniotic Wrap, a blanket designed to help the mother feel intimately closer to her child when physically apart through UC Health Hacks.  
"Hearing of my own mother's experience with postpartum blues that drew me to this project. Our project actually began at UCSD's UC Health Hack where our team devised our solution to the current and ongoing problems within maternal and pediatric health, specifically mental health. It was not only the relatability of being a woman but also of the experience of mental stress that drove myself and my team to work towards improving health-related to perinatal mood and anxiety disorders.
Taking advantage of my engineering skills and learning things outside of my field of study has changed me into a more well-rounded individual in the San Diego and Triton community."
---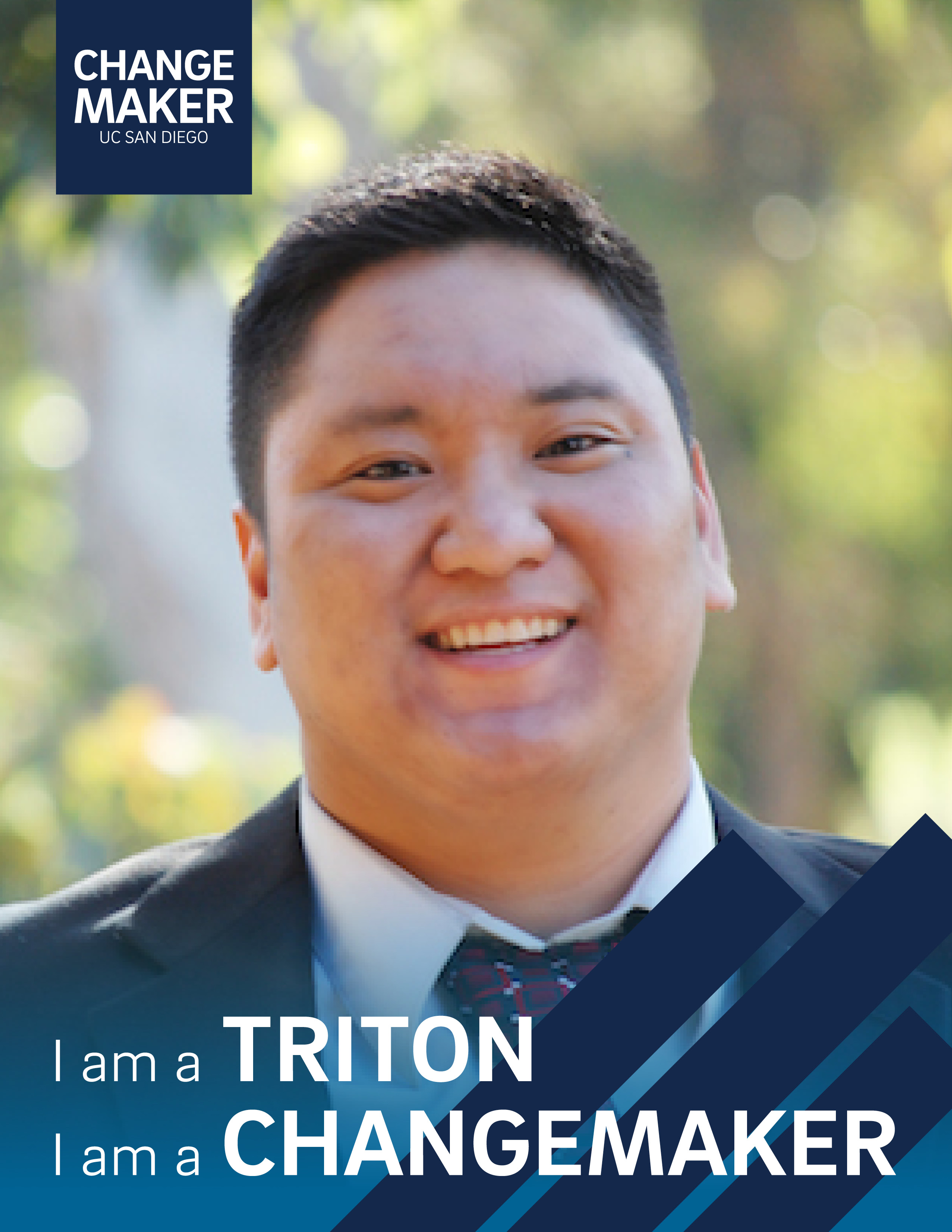 UC San Diego Changemaker Christopher Go wanted to alleviate health disparities on both sides of the U.S. Mexican border so he serves as Co-President of the International Health Collective (IHC) who offers varying projects, community involvement, and clinic trips.
"During one of our monthly clinics in Mexico,  I was tasked with taking vital signs of the incoming patients and getting a history of present illness. This little girl, who could not have been older than 7 or 8 years old asked to be checked up. We gave her a full check-up, eventually asking her what she wanted to be checked for. She responded that she had eaten a spicy "tostilloco" (a potato chip) and was worried that her stomach was going to hurt. Her innocent reason for wanting to see a doctor reminded me of the importance of community education.
For me, being a changemaker is someone who works with people and communities to empower them and to teach them the means to improve their lives so they can continue to empower others."
---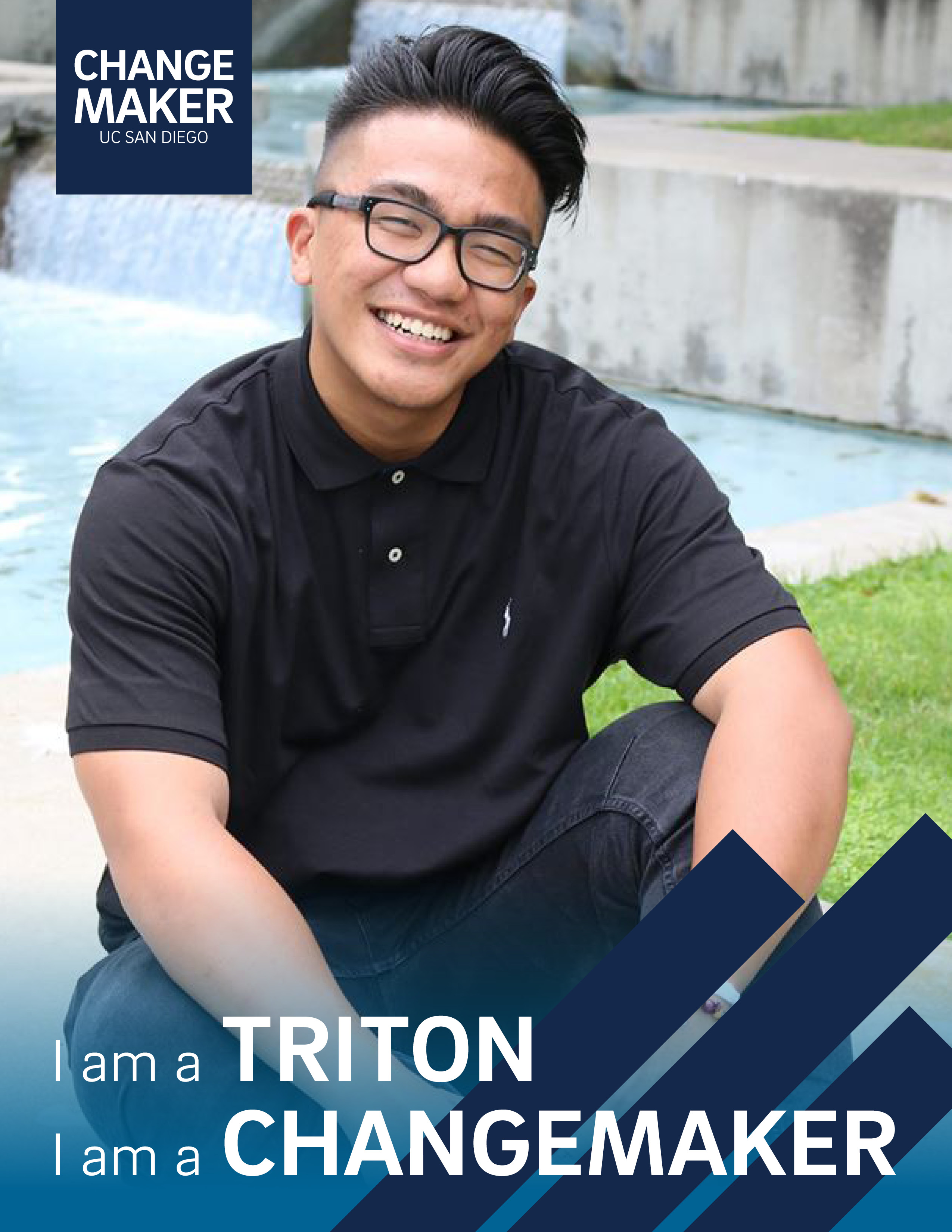 UC San Diego Changemaker Christian Feliciano knows his career goal is to provide underrepresented students in higher education with the resources and support they need to succeed and change the status quo. He minoring in Public Service to ensure he is well equipped for professional opportunities.
"The moment I found out that Public Service was available, I knew I could not pass up such an opportunity. The more I learned about the minor, the more I realized that I could better prepare myself for my dream career with its curriculum.
I have come to understand that there is no one right way of enacting positive change. Whether it's in the public sector, private sector, or independent sector, I now understand that there are multiple avenues through which we as individuals can bring forth change."
---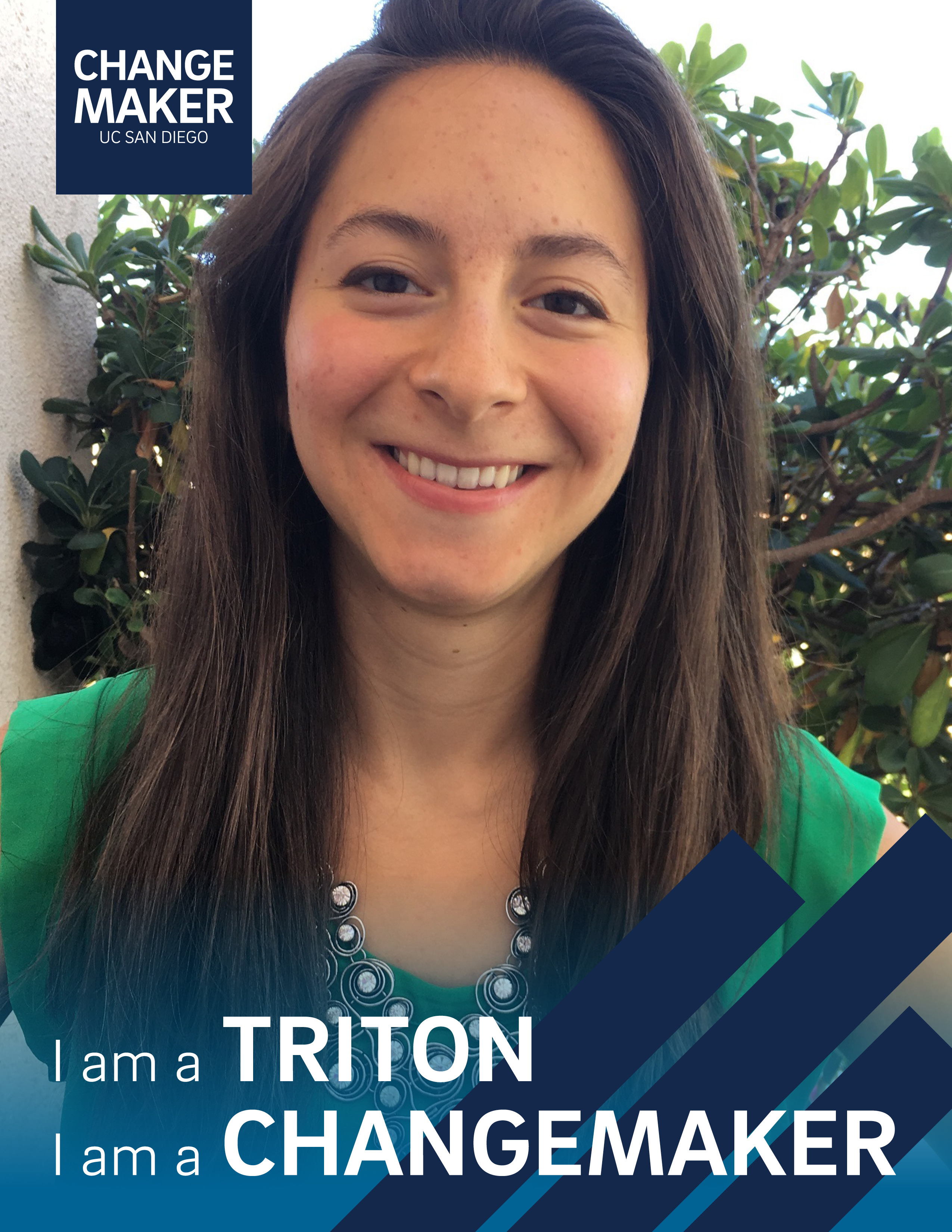 UC San Diego Changemaker Chiara Dorigo wanted to address water conservation so she co-founded Greyble, a company developing technology to make high-impact water conservation for the residential sector easy and affordable.
"I was first awakened to needs for water conservation through my academic training since my undergraduate education was in environmental studies. During the last drought and through the present, I've continued my self-education on the topic because water is something that touches everyone every day. Its quality and availability have implications for the way we eat, govern, do business, etc. My program at Rady has taught and created space for me to practice community: to build my network, nurture it, and add value to it in meaningful ways.
Being a changemaker means taking initiative, welcoming opportunity, having compassion, and expressing gratitude. It means pursuing integrity, not perfection."
---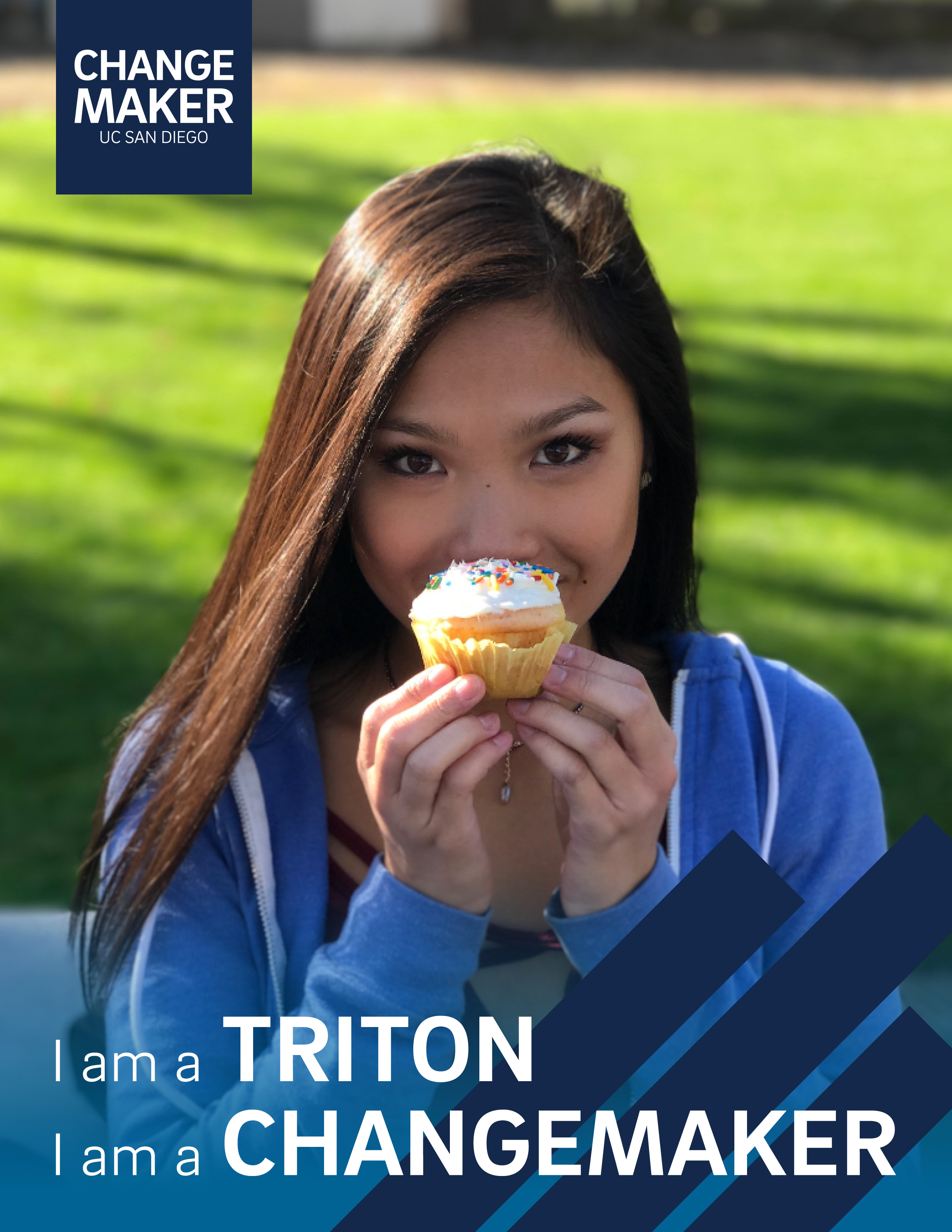 UC San Diego Changemaker Addison Yee started student organization She's the First which provides scholarships, mentorship, and empowerment to girls in low-income countries who will be the first in their families to graduate.
"I was inspired to start a chapter of She's the First at UCSD because I believe that everyone deserves the opportunity to gain an education. Every month She's the First participates in global awareness presentations to learn about the ongoing issues women across the world face, in order to allow our members to become more aware of the struggles the women we support encounter.
Being a changemaker means not only impacting the lives of the women my organization She's the First is helping, but also encouraging other students to find a cause that they are passionate about and to support it!"